Campaign Spotlight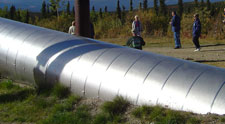 Updates, videos and photo slideshows from the Joint Review Panel hearings in Northern B.C. communities Learn more
Featured Article
Coastal First Nations are taking the B.C. government to court in an attempt to strike down an agreement that gave Ottawa decision-making authority over the Enbridge Northern Gateway pipeline project.
It is the 19th legal challenge that has been filed against the project since the federal government gave conditional approval to the controversial pipeline last year.
"This is our happy New Year to the province," said Art Sterritt, executive director of the Coastal First Nations – Great Bear Initiative Society, which represents eight aboriginal groups on the north and central coast.
He said his organization launched…