Campaign Spotlight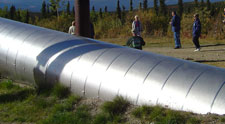 Updates, videos and photo slideshows from the Joint Review Panel hearings in Northern B.C. communities Learn more
Featured Article
The historic NDP majority government victory in Alberta Tuesday night has cost Enbridge an important ally in its beleaguered push to build the controversial Northern Gateway pipeline: an Alberta Premier.
New Democrat Premier-elect Rachel Notley has suggested she believes the $8-billion pipeline, from Bruderheim, Alberta to Kitimat, B.C. is a lost cause.
"Gateway is not the right decision. I think that there's too much environmental sensitivity there and I think there's a genuine concern by the indigenous communities," Notley told the Calgary Herald on April 24.
"Quite frankly, anyone who knows how these things unfold [knows]…