Campaign Spotlight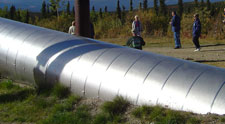 Updates, videos and photo slideshows from the Joint Review Panel hearings in Northern B.C. communities Learn more
Featured Article
Enbridge Inc.'s push to the Pacific has a new doubter: China.
A top Chinese diplomat said the Calgary-based company's proposed $7.9-billion Northern Gateway pipeline from Alberta to the west coast faces a "mountain of difficulties" and that he is not hopeful the contentious project will see the light of day.
"I want to be optimistic, but it is really hard," Wang Xinping, the Chinese consul general in Calgary, told the Globe and Mail in an interview last week.
The comment is a rare expression of doubt in Gateway's future from one of the project's key supporters,…