Campaign Spotlight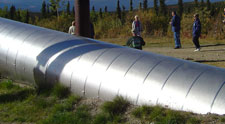 Updates, videos and photo slideshows from the Joint Review Panel hearings in Northern B.C. communities Learn more
Featured Article
Multiple legal challenges aimed at overturning the federal government's approval of Enbridge Inc. Northern Gateway pipeline plan will be heard starting Thursday.
The challenges are expected to bring new scrutiny to Ottawa's environmental approval process and its responsibility to consult with aboriginal groups.
Eight First Nations, four environmental groups and one labour union launched the legal actions, which will be heard at the Federal Court of Appeal over six days in Vancouver.
Their arguments include that the federal panel that reviewed the project didn't adequately consider threats to wildlife and oceans and excluded key issues of…