Campaign Spotlight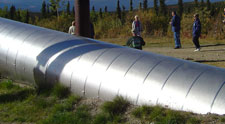 Updates, videos and photo slideshows from the Joint Review Panel hearings in Northern B.C. communities Learn more
Featured Article
Enbridge has so far sidestepped the worst of the energy downturn, earning $88 million in fourth quarter of 2014, and $1.1 billion for 2014 as a whole, more than double what it earned in 2013.
Enbridge's CEO Al Monaco called 2014 a "successful year on many fronts."
Monaco was talking about progress on several of the company's smaller pipeline projects, like Line 9 between Ontario and Quebec, or Flanagan South in the U.S.
He wasn't talking about the Northern Gateway pipeline project, which was approved last year by the federal government, subject to 209 conditions.
…