Campaign Spotlight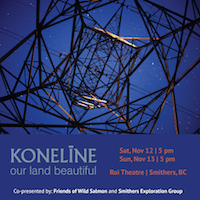 KONELINE is a sensual, cinematic celebration of northwestern British Columbia, and all the dreamers who move across it. It's about a wilderness facing change. More
Featured Article
Calgary-based Enbridge Inc. is laying off about five per cent of its workforce, the company announced Wednesday.
Canada's largest pipeline operator said Wednesday it has eliminated about 370 positions in Canada and about 160 in the U.S., making up roughly five per cent of its more than 11,000 staff.
"Throughout this process, Enbridge is committed to treating people fairly and with respect. We are providing support to those leaving the company, as well as those who remain," company spokeswoman Suzanne Wilton said in an email to CBC News.
The company began an organizational review in the first quarter of this year.
"It is focused on what…