Campaign Spotlight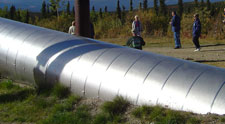 Updates, videos and photo slideshows from the Joint Review Panel hearings in Northern B.C. communities Learn more
Featured Article
One sound the citizens of Hartley Bay aren't keen to hear is the rumble of oil tankers making their way up the Douglas Channel.
So over the last 14 months, members of the Gitga'at Nation have paid close attention to the sounds in their territory. With the help of a geographer – Max Ritts from the University of British Columbia – the Gitga'at have acoustically mapped the region.
Charting the sounds of an area might sound arcane, but it is part of a growing science known as soundscape ecology.
"The idea was we wanted to collect…