Lelu Island needs your voice this week!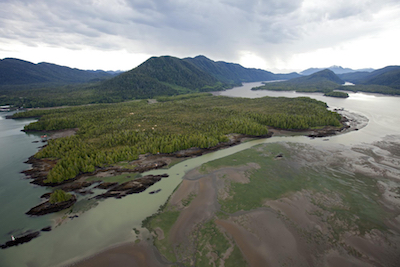 Next Friday, September 30, Prime Minister Justin Trudeau is expected to make a decision on whether to approve Pacific Northwest LNG's plant on Lelu Island in the Skeena estuary.
Not only does his decision have potentially dire implications for Skeena wild salmon, it would create one of Canada's largest single sources of greenhouse gas pollution.
Will you join us in sending a last-minute message to the Prime Minister and his cabinet ministers?
We have put together an online letter-writing tool to make it easy to send your letter. Please feel free to edit the letter to reflect your thoughts.
Here is the message we are encouraging people to send:
Salmon at risk: Lelu island and Flora Bank provide critical habitat for all five species of Skeena wild salmon, as well as steelhead. It is no place for a massive industrial development like an LNG plant. (More on LNG risk to salmon here).

Greenhouse gas pollution: The proposed plant and associated infrastructure will create one of Canada's largest single sources of greenhouse gas pollution, making it even more difficult to meet our emissions targets and international commitments under the Paris Agreement. (More on greenhouse gas impacts from LNG here).
Your letter will be sent to:
Justin Trudeau, Honourable Prime Minister of Canada, Ottawa, Justin.Trudeau@parl.gc.ca
Catherine McKenna, Minister of Environment and Climate Change, Ottawa, Catherine.McKenna@parl.gc.ca
Jim Carr, Minister of Natural Resources, Ottawa, Jim.Carr@parl.gc.ca
Carolyn Bennett, Minister of Indigenous and Northern Affairs, Ottawa, Carolyn.bennett@parl.gc.ca
Dominic LeBlanc, Minister of Fisheries, Oceans, and Canadian Coast Guard, Ottawa, Dominic.leblanc@parl.gc.ca
Jody Wilson-Raybould, Minister of Justice, Ottawa, Jody.Wilson-Raybould@parl.gc.ca
If you use Twitter, here are the Twitter handles for the PM and his Mnisters: @justintrudeau; @cathmckenna; @Min_LeBlanc; @jimcarr_wpg; @Carolyn_Bennett. Be sure to send them a tweet reminding them to make the rights decision next week for Skeena salmon.
On behalf of Skeena wild salmon, thank you!!