Are our rivers and communities safe from rail spills?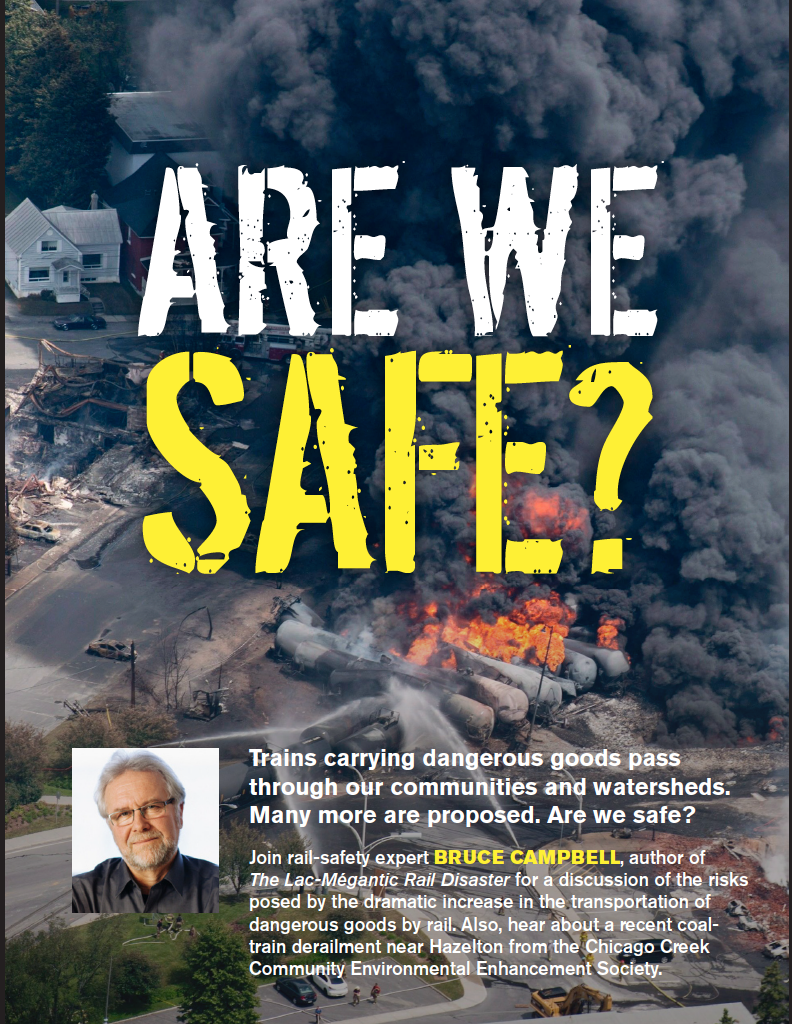 The volume of petroleum products and petrochemicals shipped by rail through the Skeena watershed is about to sky rocket. What does this mean for the safety of our rivers and our communities?
Friends of Wild Salmon is sponsoring a speaking tour by rail safety expert Bruce Campbell. Bruce is the author of a new book entitled The Lac-Mégantic Rail Disaster and will speak on the risks posed by the dramatic increase in the transportation of dangerous goods by rail. Representatives from the Chicago Creek Community Environmental Enhancement Society will also be on hand to share information regarding the recent coal-train derailment near Hazelton.
See below for event details:
PRINCE GEORGE
Sunday, January 20
Venue - Omineca Arts Centre
7:00pm
Co-sponsored by Sea to Sands Conservation Alliance
BURNS LAKE
Monday, January 21
Burns Lake Public Library
7:00pm
Co-sponsored by Lakes District Clean Water Coalition
HOUSTON
Tuesday, January 22
Houston Public Library
12:00pm
Co-sponsored by A Rocha: Canada's Upper Bulkley River Streamkeepers
HAZELTON
Tuesday, January 22
Venue – to be determined
7:00pm
Co-sponsored by Skeena Watershed Conservation Coalition
SMITHERS
Wednesday, January 23
The Old Church
7:00pm
Co-sponsored by Friends of Morice Bulkley
TERRACE
Thursday, January 24
Knox United Church
7:00pm
Co-sponsored by North West Watch
KITIMAT
Friday, January 25
Orca Room below Chances Casino, Convention Centre
7:00pm
Co-sponsored by Douglas Channel Watch
PRINCE RUPERT
Saturday, January 26
Orca Room below Chances Casino, Convention Centre
7:00pm
Co-sponsored by Prince Rupert Environmental Society
About Bruce Campbell
Bruce Campbell is the author of three major reports and a number of media commentaries on the Lac-Mégantic rail disaster. For his work on Lac-Mégantic, Bruce was awarded a Law Foundation of Ontario Community Leadership in Justice Fellowship and spent 2016 as a visiting professor at the University of Ottawa Faculty of Law. Throughout his career, Bruce has written numerous reports on economic policy, trade and investment, Canada-US-relations, and the political economy of oil. His commentaries have appeared in major newspapers and online news sites across Canada. His previous books include the edited volumes Living with Uncle: Canada-US Relations in an Age of Empire and Medicare: Facts, Myths, Problems & Promise. Bruce is currently Adjunct Professor, York University, Faculty of Environmental Studies, and Senior Fellow, Ryerson University, Centre for Free Expression. He lives in Ottawa.
"Bruce Campbell has carried out meticulous research in many fields to piece together the whole story of a catastrophe-in-the making, and his findings, as reported in this book, will be of interest to readers who value human life, intact communities, and a safe environment. Much more than a research report, the book is a dramatic read, with no letup in the action from start to finish."
- Harry Gow, retired criminology teacher at University of Ottawa, is President Emeritus of Transport Action Canada and Chair of the Board of the Public Interest Advocacy Centre