First Nations' challenges of Northern Gateway pipeline to be heard in court
By Laura Kane, The Globe and Mail, September 30, 2015
Multiple legal challenges aimed at overturning the federal government's approval of Enbridge Inc. Northern Gateway pipeline plan will be heard starting Thursday.
The challenges are expected to bring new scrutiny to Ottawa's environmental approval process and its responsibility to consult with aboriginal groups.
Eight First Nations, four environmental groups and one labour union launched the legal actions, which will be heard at the Federal Court of Appeal over six days in Vancouver.
Their arguments include that the federal panel that reviewed the project didn't adequately consider threats to wildlife and oceans and excluded key issues of concern to First Nations.
"There was no consultation," said Terry Teegee, a tribal chief with the Carrier Sekani Tribal Council, which represents two communities that have filed litigation. "We didn't participate in the Joint Review Panel process because it didn't address the issues that we wanted, in terms of the cumulative impacts of the project as well as our title and rights."
The government accepted the panel's recommendations and in June, 2014, approving the $7-billion project that would carry bitumen from Alberta's oil sands to British Columbia's coast. There were 209 conditions attached to the approval.
Canada's Attorney-General, Northern Gateway Pipelines L Partnership and the National Energy Board are named as respondents to the challenges.
Three organizations – Amnesty International, the Canadian Association of Petroleum Producers and British Columbia's Attorney-General – will make arguments as intervenors.

The federal government declined to comment ahead of the hearings.
Speaking for Northern Gateway, Ivan Giesbrecht said the company recognizes traditional aboriginal land-use rights and believes First Nations should share in ownership and benefits.
"Our ongoing priority is to continue to build trust, engage in respectful dialogues and build meaningful partnerships with First Nations and Métis communities," he said.
"We know we have more work to do in this regard and we are committed to doing this work," Mr. Giesbrecht said.
Mr. Giesbrecht said the Joint Review Panel's examination of the Northern Gateway project was among the most exhaustive in Canadian history, spanning 180 days of hearings.
But Karen Wristen of the Living Oceans Society, among the groups that filed challenges, said the panel appeared to ignore crucial evidence submitted by intervenors.
Her organization's evidence indicated spilled bitumen would sink beneath the ocean's surface, making it impossible to recover using conventional technology. The panel's report, however, found the environment would recover within months or years – a conclusion for which Ms. Wristen said there's no evidence.
She said she hopes the hearings draw attention to Canada's "suffering" environmental assessment process.
"I think environmental assessment in this country is in deep, deep trouble at the moment," she said. "It's not providing the kind of in-depth scientific review that the government would have us believe it is."
Pete Erickson, a hereditary chief with the Nak'azdli First Nation, said Enbridge was given days to present its case to the panel while he got 10 minutes to speak for his people. He said a 2014 Supreme Court decision that gave land title to the Tsilhqot'in sets a precedent that requires the government to not only consult with First Nations, but seek their approval.
"We've said that under no circumstances is the pipeline ever going to be allowed in the current presentation," he said. "We've decided that there's no way we can allow it and I believe that the court will recognize that we have the right to say that."
http://www.theglobeandmail.com/news/british-columbia/first-nations-challenges-of-northern-gateway-pipeline-to-be-heard-in-court/">Download related file in PDF format
Clinton's comments put pipelines back on to Canadian election agenda
By Kelly Cryderman, The Globe and Mail, September 23, 2015
http://www.theglobeandmail.com/report-on-business/industry-news/energy-and-resources/clintons-comments-put-pipelines-back-on-to-canadian-election-agenda/article26506964/
Hillary Clinton's decision to voice her opposition to the Keystone XL project this week has thrust pipeline politics back into the federal election campaign.
Even before the U.S. Democratic presidential front-runner waded into the North American energy development fray, the federal government's approach to pipeline development was likely to be a key issue for voters in Alberta and British Columbia, and parts of Atlantic and Central Canada – whether they are pro- or anti-pipeline.
For the political parties, that means "there's some careful dancing that has to happen," said Jamie Lawson, a political scientist at the University of Victoria.
A day after Ms. Clinton's pronouncement, the NDP used it to criticize Liberal Leader Justin Trudeau for being supportive of Keystone. "Are Trudeau and Harper both on Team Trump 2016?" said a news release from the New Democrats.
The statement was meant to compare the two Canadian leaders to the U.S. Republicans' most bombastic presidential candidate, Donald Trump. It's clear where Conservative Leader Stephen Harper stands on pipelines: He is an unabashed supporter of new projects, assuming they've gone through his government's environmental assessment process. Green Party Leader Elizabeth May is just as direct in her position, saying her party "opposes every single one of the pipelines that are proposed."
But Canadian voters need to decipher the nuanced take on pipeline development by the NDP's Thomas Mulcair and Trudeau. Now that TransCanada Corp.'s Keystone XL has been lumped in with Enbridge Inc.'s Northern Gateway in the category of projects with diminished prospects for success, the two leaders' positions on other, more likely, proposed projects will come under more scrutiny.
As Canada's oil industry struggles with the economics of $45-a-barrel oil, Canadian midstream companies are looking past election day on Oct. 19 to whether Ottawa will be cool or welcoming to new oil pipelines. Enbridge spokesman Graham White said the company will do as it always has, and "focus on ensuring governments understand the fundamentals so they can best adapt to the changing needs and requirements of the industry."
Energy insiders also say they're watching the political race to see whether the Conservative government's three-year-old changes to the regulatory process, meant to streamline approvals and reduce duplication, will remain after the election.
Both the NDP and the Liberals charge that the government has weakened environmental laws and regulatory processes to the detriment of the public trust and Canada's international reputation – and this has in fact hurt pipeline development. However, the two parties are far from taking a one-size-fits-all approach to pipelines.
Mr. Mulcair has steadfastly opposed Keystone XL – an 800,000-barrel-per-day project that would bring bitumen to U.S. refineries that specialize in heavy oil – on the grounds that he wants more processing jobs in Canada. He also has spoken against Enbridge's Northern Gateway project out of concerns about supertankers coming in and out of Douglas Channel in B.C.
It's on other projects that Mr. Mulcair is more difficult to pin down. While he once described the 4,600-kilometre Energy East pipeline as a "pro-business, common-sense" project, he has cooled to the TransCanada proposal, and said opposition stems from the Conservative government's decision to weaken the Navigable Waters Protection Act and a confrontational approach with First Nations. When it comes to Kinder Morgan Canada's plan to triple the capacity of the Trans Mountain pipeline conduit, enabling shipments of Alberta crude to Asia, the NDP leader says he shares Green Party concerns about the increase in tanker traffic.
At the same time, he's not 100-per-cent opposed to either of the two projects. "Opposing these pipelines systemically in advance is just as wrong as supporting them in advance," Mr. Mulcair said in August. He notes that building Energy East – which would be able to ship 1.1 million barrels of crude per day from Alberta and Saskatchewan to refineries and port terminals in Eastern Canada – could reduce oil-by-rail traffic.
In Victoria, Prof. Lawson says the NDP must tread carefully. "There is a green kind of voter who is concerned not just about these [pipeline] developments – not just with respect to value-added or the local impacts – but is concerned because of what it does to accelerate or continue a dependence on fossil fuels."
Mr. Trudeau has also shifted his position on proposed projects. On the Trans Mountain expansion, Mr. Trudeau told Calgary's Metro News early in 2014 that he hoped "we're going to be able to get that pipeline approved." However – perhaps recognizing growing opposition to the project – he has more recently said it requires "public trust."
Similarly to Mr. Mulcair, Mr. Trudeau criticizes the environmental and regulatory process under the Conservatives, and says Energy East needs a strong "social licence."
The NDP position becomes more difficult to read when Mr. Mulcair talks about making greenhouse gas emissions part of the calculation for pipeline approvals. Mr. Trudeau has made similar proposals. This will be difficult to reconcile on a number of fronts, including the fact that older pipelines, still in operation, were approved before emissions were taken into account.
Petronas mulls changes to bridge, jetty site for B.C. LNG terminal
By Brent Jang, Vancouver Sun, September 14, 2015
Pacific NorthWest LNG is considering altering the trajectory of a planned suspension bridge and jetty in British Columbia in an effort to address the environmental concerns of the Lax Kw'alaams First Nation.
The Petronas-led consortium's proposal to export liquefied natural gas has been criticized by Lax Kw'alaams leaders, who are warning about the impact to fish habitat from building a B.C. LNG plant near Flora Bank – a sandy area that is visible at low tide.
AltaCorp Capital Inc. analyst Mark Westby, who co-wrote a new report on B.C. LNG, said on Monday that the challenge is how to redesign the suspension bridge and trestle-supported jetty to position them farther away from ecologically sensitive Flora Bank.
Flora Bank, which contains eelgrass that serves as habitat for juvenile salmon in the Skeena River estuary, is located next to the proposed $11.4-billion LNG terminal on Lelu Island in northwestern British Columbia.
The consortium, led by Malaysia's state-owned Petronas, has envisaged constructing the 1.6-kilometre-long suspension bridge to carry a pipeline beginning on Lelu Island and extending over the northwest flank of Flora Bank. That bridge would connect with a 1.1-kilometre jetty that is slated to stretch to a marine terminal for ocean-going LNG tankers.
"Engineering issues and shipping channels will dictate what is viable," AltaCorp said in its report, noting that the location of an "anchor block" is being scrutinized because that is the meeting point where the bridge would end and the jetty begin.
Flora Bank and Lelu Island are part of the traditional territory of the Lax Kw'alaams.
Spencer Sproule, Pacific NorthWest LNG's senior adviser of corporate affairs, said the consorti- um has been reviewing its engineering for the terminal and also the bridge and jetty that would lead to the berth for LNG carriers.

"Our current investigative works program is a continuation of two earlier phases of soil investigation from 2013 and 2014," Mr. Sproule said. "Significant consultation has taken place with local First Nations and stakeholders. Engineering for a project of this size is an iterative and methodical process."
The Canadian Environmental Assessment Agency is expected to rule by early 2016 on whether to approve Pacific NorthWest LNG's project, to be situated on federal Crown property administered by the Prince Rupert Port Authority.
AltaCorp noted that the federal New Democratic Party has indicated its support for more extensive environmental assessments, so if the NDP emerges as the winner of the Oct. 19 election, that could further delay the project.
In its 97-page report, AltaCorp said that, of 20 B.C. LNG proposals so far, it sees four as having the best chance of coming to fruition. One is a small-scale joint venture called Douglas Channel LNG, backed by AltaGas Ltd. The remaining three are major proposals – Pacific NorthWest LNG; Royal Dutch Shell PLC-led LNG Canada; and WCC LNG, co-owned by Exxon Mobil Corp. and Imperial Oil Ltd.
Peters & Co. Ltd. cautioned last week that there could be delays and cancellations with B.C. LNG projects, but still believes the industry is viable. "Our view remains that LNG export is likely to be developed on the Canadian West Coast," Peters & Co. said in its report.
Pacific NorthWest LNG has been targeted by several Lax Kw'alaams hereditary chiefs, who helped set up an occupation camp on Lelu Island three weeks ago. Gitxsan hereditary chiefs issued a statement Monday to offer their support to their Lax Kw'alaams counterparts.
Joey Wesley, a spokesman for the Gitwilgyoots, one of nine allied tribes of the Lax Kw'alaams, said LNG plans have not been properly evaluated.
The Lax Kw'alaams, one of five Tsimshian First Nations consulted last year during the provincial environmental review, opposed the energy export proposal during voting earlier this year. Two groups, the Metlakatla and the Kitselas, signed impact benefit agreements with Pacific NorthWest LNG in December. Two others, the Kitsumkalum and Gitxaala, have not yet announced their decisions.
"It's important to take our time and hear from all interested parties as we move through the design phase of our proposed facility," Mr. Sproule said.
Download related file in PDF format
Liberals vow to stop oil tanker traffic along northern B.C. coast if elected
CTV News, September 11, 2015
The federal Liberals are promising a moratorium on oil tanker traffic along the northern coast of British Columbia.
The move would effectively kill any pipeline projects through the area -- including the controversial Northern Gateway pipeline that Liberal Leader Justin Trudeau opposes -- and make official a non-binding motion the House of Commons passed in 2010.
The Liberal pledge would put Dixon Entrance, Hecate Strait and Queen Charlotte Sound off limits to tanker traffic as part of the party's push to protect ecologically sensitive areas.

The move puts the Liberals at odds with the Conservatives who favour a pipeline to the West Coast to move Alberta oil overseas to Asia-Pacific markets.
Trudeau made the announcement in Vancouver on Thursday as he unveiled a party plan to protect Canada's oceans that included a pledge to reinstate $40 million cut from the ocean science and monitoring program at the Department of Fisheries and Oceans.
The plan would also expand protected marine and coastal areas.
http://www.ctvnews.ca/politics/election/liberals-vow-to-stop-oil-tanker-traffic-along-northern-b-c-coast-if-elected-1.2557318">Download related file in PDF format
Pipeline politics: Where do the major parties stand on the proposed projects?
By Michelle Zillo, CTV News, September 08, 2015
Energy became a key election issue just weeks into the marathon campaign, with the leaders facing questions about their positions on a number proposed pipeline projects.

But some party leaders have been clearer than others on controversial projects.
The Green Party is the only one to oppose all current pipeline project proposals that plan to ship raw bitumen out of Canada. During the August leaders debate, Leader Elizabeth May attacked the Conservative and NDP's stance on pipeline projects. In particular, she took aim at NDP Leader Tom Mulcair about whether he supported the Kinder Morgan project proposed for B.C. "It's pretty straight forward," she said. "They plan to put three times as many tankers moving out of Vancouver loaded with diluted bitumen, hazardous risky material."
May has said every current pipeline proposal is about "getting raw, unprocessed bitumen to tidewater."
Among her explanations of why the Green Party rejects all proposed pipelines is that they are based on a "risky economic strategy." She has also expressed concern that a single accident could "cripple the entire billion dollar fisheries and tourism industry." Instead, the Green Party has said it wants a national energy strategy with a strong climate plan.
Here's breakdown of each of the other parties' stance on four major pipeline proposals.
KEYSTONE XL
TransCanada's $8 billion Keystone XL project would carry crude oil and bitumen from Alberta's oilsands through the U.S. to Nebraska, where it would connect with existing pipelines to Texas refineries.
The proposed 1,900-kilometre pipeline has become a sore spot for U.S.-Canada relations over its years-long delay. While the Conservative government has branded the pipeline as a benefit to both countries, U.S. President Barack Obama has expressed doubt about the number of permanent jobs it will create, and vetoed a Republican-backed bill to bypass a State Department review and begin construction of the project.
Last month, U.S. Republican Senator John Hoeven predicted Obama would reject the pipeline when Congress went on break in August. And TransCanadasources close to the project recently told The Canadian Pressthat they feel rejection is likely.
But with Canadian politicians on the campaign trail, it's unclear how the Oct. 19 federal election will affect the timing of a U.S. decision on Keystone.
Conservatives - YES
Harper has made his position on the Keystone pipeline crystal clear, once calling the U.S. approval of the project is a "no brainer" and, at a later date, describing the approval as inevitable-- if not under the Obama administration, than the subsequent administration. The project's approval has undoubtedly been one of Harper's highest priorities as prime minister.
The Conservative government has long-touted the benefits the proposed pipeline offers, including job creation and the replacement of oil imports from insecure countries like Venezuela with a reliable supply from Canada.
The Conservatives also point to an environmental review by the U.S. State Department concluding that the pipeline would not significantly impact the environment, as some environmental groups have warned.
NDP - NO
NDP Leader Tom Mulcair opposes the pipeline, saying the project represents the export of 40,000 jobs to the U.S. Rather, Mulcair has said he would like to see the bitumen moved within Canada to keep those jobs in the country and "take care of Canada's energy security."
There has been some controversy around the job numbers relating to Keystone. While an analysis by the U.S. State Department found that the pipeline would support 42,100 jobs during the one- to two-year construction period, only 35 permanent and temporary jobs will remain in place once Keystone XL is complete and fully operational.
The federal New Democrats have support for their position on Keystone from Alberta NDP Premier Rachel Notley, who has said her newly elected government won't lobby for the pipeline.
Mulcair has said he would strengthen the environmental review process for pipeline projects to ensure they meet Canada's international obligations to reduce greenhouse gas emissions.
Liberals - YES
Liberal Leader Justin Trudeau has said he backs Keystone because it is in the public interest.
However, he has criticized Harper for letting the project come between Canada and the U.S., calling it a "diplomatic failure." Speaking in June to Canada 2020, a progressive think tank, Trudeau accused Harper of doing nothing to address the Obama administration's environmental concerns relating to Keystone.
The Liberals have suggested the pipeline may have had a better chance of approval if the Conservative government had done more on climate change.
ENERGY EAST
TransCanada's Energy East pipeline would ship up to 1.1 million barrels of oilsands crude per day to refineries and export terminals in Quebec by 2017, and to New Brunswick by 2018. The company wants to convert the current natural-gas pipeline, which ends in eastern Ontario, to oil service, and add new pipe in order to deliver crude to Quebec and New Brunswick.
The 4,600-kilometre pipeline's lengthy route through many provinces -- Alberta, Saskatchewan, Manitoba, Ontario, Quebec and New Brunswick -- also makes it a sensitive project.
In October 2014, TransCanada submitted its project application for the Energy East pipeline to the National Energy Board (NEB), which now has 15 months to review the application. That gives the NEB until early 2016 to make a recommendation to the federal cabinet on the project.
But a cloud of criticism hovers over the $12-billion proposed pipeline, with opponents of the project describing it as unsafe for the environment.
Conservatives – YES, IN PRINCIPLE
Harper has said that the Energy East pipeline is a good project in principle, as it's important that Canada get its energy products to market. However, the Conservative government has highlighted the fact that all pipeline projects must undergo a review process.
NDP - MORE CONSULTATION NEEDED
Mulcair has faced criticism for his position on Energy East. Trudeau has accused him of double-speak on the project by sounding doubtful about it when speaking in French, and more optimistic in English. While the project is widely opposed in Quebec, it has huge support in western Canada -- both regions the NDP would like to gain more seats, forcing the party to walk a fine line on the pipeline.
If elected, the NDP has said it would introduce a new approval process for big energy projects and restart the process for Energy East. The party also says more consultation is needed on the project before making a decision.
"You can't say 'yes' to Energy East or any other project right now because the public simply can't have confidence (in the process)," said Mulcair last week. "So the first thing we'll do is put back the process, and re-start Energy East under that credible process."
Notley, however, has said she is in favour of Energy East, expressing hope that Quebec will support the project if Alberta does its part to protect the environment along the way.
Liberals – MORE CONSULTATION NEEDED
Trudeau has said he won't fully support Energy East until more public consultations are held to address environmental concerns related to the project.
Amidst Trudeau's hesitancy to back the pipeline, his Liberal colleague in New Brunswick, Premier Brian Gallant, has said he hopes the provinces and territories can co-operate on energy projects like Energy East. Gallant says the project would help grow the economy and create jobs -- some 2,300 in New Brunswick alone, according to TransCanada.
NORTHERN GATEWAY
Enbridge's 1,177-kilometre Northern Gateway pipeline would carry bitumen from Alberta's oilsands to the B.C. coast town of Kitimat, and then be shipped overseas.
The Conservative government conditionally approved the Northern Gateway project last June on the basis that it meets the 209 conditions set out by a joint federal review panel in 2013. Those conditions include consultations with affected aboriginal communities, as well as authorization from federal and provincial governments.
The B.C. government has also said that Northern Gateway still doesn't meet the five conditions for approval set out by the province, which include a full environmental review and respect for aboriginal and treaty rights.
Environmental and aboriginal groups have expressed fierce opposition to the Northern Gateway pipeline, filing almost 20 legal challenges against the project since the feds approved it last year.
Conservatives – CONDITIONAL YES
The Harper government has long said that Northern Gateway is crucial to the development of Canada's natural resources sector, making it a big part of its energy strategy.
However, it's important to note how the Harper government's approach to the pipeline has changed over the years. Harper, who once said Energy East was of "vital interest" to Canada, only issued a press release when cabinet approved the project, and didn't put up any caucus members at the time to talk about the decision. The Harper government has since emphasized the work that the "proponent" -- or Enbridge -- has to do to fulfill the public commitment it made to engage with Aboriginal groups and local communities along the pipeline's route.
NDP - NO
The NDP immediately denounced the government's conditional approval of the pipeline last year, saying it is part of Harper's "big oil agenda."
If elected, Mulcair has said an NDP government would immediately reverse the decision to accept the NEB's approval of the pipeline. The NDP leader also believes the pipeline will be an election issue in B.C., where many of the affected communities are located.
And, again, Mulcair finds support from Notley in Alberta, who has said her government won't lobby for the Northern Gateway project.
Liberals – NO
Liberal Leader Justin Trudeau also opposes the Northern Gateway pipeline.
"If I win the honour of serving as prime minister, the Northern Gateway pipeline will not happen," he said after the government approved the project last year.
"This government has been nothing but a cheerleader for this pipeline from the very beginning when Canadians needed a referee."
TRANS MOUNTAIN
Kinder Morgan's $7-billion twin pipeline would triple the bitumen-carrying capacity of the current Trans Mountain pipeline, by adding nearly 1,000 kilometres of new pipe between Edmonton and Vancouver. From there, it would be shipped to Asian markets. The proposal would also increase the number of tankers in Vancouver's Burrard Inlet from five to 34.
Earlier this month, the NEB issued 145 draft conditions that the company must meet if the Trans Mountain expansion is to be approved, including improved emergency response, increased consultation with First Nations and details about plans to protect endangered species.
Kinder Morgan boasts that Northern Gateway would create 180 local jobs worth $17 million and more spinoff jobs for contractors and suppliers.
But environmental groups and several First Nations are opposed to the project, saying it threatens B.C.'s sensitive coastline and the Great Bear Rainforest. For instance, an independent review by the the Tsleil-Waututh Nation in B.C. found that a spill could kill as many as 500,000 birds and destroy up to 25 kilometres of shoreline.
Conservatives - YES
The Conservative government has pressed for the Trans Mountain pipeline as part of its push for oilsands development and pipeline growth.
NDP – MORE CONSULTATION NEEDED
In the first leaders' debate of the federal election earlier this month, Mulcair refused to say whether he would approve or reject Energy East, despite repeated calls from Green Party Leader Elizabeth May to do so.
"Do you support Kinder Morgan?" the Green leader repeatedly asked Mulcair.
Mulcair did not directly answer May, rather saying the project needs to go through a rigorous review process first.
"Ms. May takes the position that you can say no to them, all of them, in advance. Mr. Harper is taking the position that you can say yes to all of them in advance. We want a clear, thorough, credible process that the public can have confidence in," said Mulcair during the debate.
Liberals – OPEN TO THE PROJECT
Trudeau has indicated that he's willing to consider the proposed the Trans Mountain project if it passes environmental review and gets support from the affected communities. He has said that Kinder Morgan can learn from Enbridge's experience that "community buy-in is at the centre of infrastructure projects."
http://www.ctvnews.ca/politics/pipeline-politics-where-do-the-major-parties-stand-on-the-proposed-projects-1.2525685">Download related file in PDF format
Pipeline politics: What you need to know about oilsands and the 2015 election
By Anna Mehler Paperny, Global News, August 29, 2015
http://globalnews.ca/news/2175879/pipeline-politics-what-you-need-to-know-about-oilsands-and-the-2015-election/
When the federal election kicks into high gear during the final stretch of a marathon campaign, a high-profile case that could change Canadian resource development will play out in a B.C. courtroom.
In early October, lawyers representing eight First Nations, four non-profit groups and one major labour union will argue the Northern Gateway pipeline process was fundamentally flawed and the federal government failed in its constitutional duty to consult the aboriginal groups through whose territory the proposed pipeline will run.
They also contend the pipeline review process neglected the project's potential effects on wildlife and the public interest concerns around its construction. "We're talking about some fairly, from our perspective, egregious errors that were made," said Jessica Clogg, executive director and senior counsel with the West Coast Environmental Law Association, which is representing some of the applicants. "That could send that process right back to the drawing board."
This case, and a second challenging Kinder Morgan's TransMountain pipeline later that month, will pressure whoever forms the next government to put action behind their pipeline rhetoric.
"I'm very heartened to see indications that that's on the table for some of the parties," Clogg said. But, "the proof is in the pudding.
"I think there is certainly a crisis in confidence with respect to current federal and provincial review processes. And that's for a whole variety of reasons," she said.
"The kind of overhaul that would be required to get us back on track, I think, would be quite substantial."
The way Canada develops and exports its natural resources — especially bitumen, the oilsands crude that's become the economic heart-blood of Alberta and, to a lesser degree, Saskatchewan — has been contested at debates and photo ops across the country.
Prominent NDP candidate Linda McQuaig raised the ire of many, and the derision of Conservatives, when she said it would be more responsible to keep Canada's bitumen "in the ground."
But what exactly do the parties stand for, and what will that mean for Canada's energy economy?
Both NDP leader Tom Mulcair and Liberal leader Justin Trudeau have pledged to revamp the National Energy Board's approval process. They want to give community members and aboriginal peoples more opportunity to comment and question proponents and they want the National Energy Board to take a project's climate impact into account when deciding whether it's a good idea.
While both parties' proposals are still somewhat fuzzy, so far the NDP's appears to make more concrete links between Canada's greenhouse gas emissions targets and project approval, said Greenpeace climate and energy campaigner Keith Stewart.
"The logical implication of what the NDP is saying is there has to be some kind of a plan to achieve those targets: Companies have to demonstrate these projects are consistent with that," he said. "Basically there's a carbon budget."
It's one thing to propose that for future projects.
But what would these mean for proposals that are already in the works?
Mulcair and Trudeau have been less clear on that point. While each has slammed the evaluation process, they've both shied away from condemning these projects outright.
"It is not for governments to be cheerleaders for various pipelines," Trudeau said Thursday when asked point-blank if he supports the Enbridge and Kinder Morgan pipelines.
"There is no longer a choice to be made between what's good for the economy and what's good for the environment," he said, adding that his party's committed to "overhauling the environmental assessment process to make sure … that Canadians worried about the scientific risks associated with specific projects are part of the solution and get their concerns heard and addressed."
(He didn't actually say what he thinks of either of the pipelines he was asked about.)
Mulcair, for his part, said at a campaign event this week that the existing approval process is "singularly defective."
"Right now, there's no way to approve Kinder Morgan['s TransMountain pipeline.]"
At a campaign event in Winnipeg this week, the NDP leader pledged to "rigorously enforce overarching sustainable development legislation." He also took to task someone interrupting his speech with calls to clarify his stance on Energy East and stop "tar sands" development: "Look, I'm more than willing to put up with your screaming but I'm talking about First Nations. Could you show a little bit of respect, please?"
In an emailed statement, Liberal party spokesperson Jean-Luc Ferland said the party's revised environmental assessment process would include "an analysis of upstream impacts and the greenhouse gas emissions resulting from the projects being assessed."
"New assessment criteria would be applied to projects under review," he wrote.
(Neither the NDP nor the Conservative party, which has stood by the existing approval process and been an unabashed proponent of such pipeline projects as Keystone-XL, returned our requests for comment.)
TransCanada's Energy East pipeline project is especially vulnerable to strengthened assessment criteria, said Stewart: After the company agreed to revise its planned route because of concern for beluga whale habitat in Cacouna, Que., it has yet to complete its submission to the National Energy Board.
"So if a new government comes in and says, 'Okay, we will be changing this law' and you haven't started yet, then this application will be considered under the new rules," Stewart said.
TransCanada spokesperson Tim Duboyce wouldn't comment on potential legal changes coming out of October's election.
"I can't possibly comment on some future regulatory change that hasn't been proposed or happened," he said.
An Enbridge spokesperson also declined to comment.
When it comes to Northern Gateway, the pending court case may create an added incentive for government to send the project back to the drawing board in response to First Nations concerns.
The Liberal Party said it agrees Canada has failed in its duty to consult First Nations, Ferland said in an email.
"We will, in full partnership and consultation with First Nations, Inuit, and Métis Peoples, undertake a full review of Canada's environmental assessment process put in place by Mr. Harper, and replace it with a new process that ensures the Crown is fully executing its consultation, accommodation, and consent obligations on project reviews and assessments, in accordance with its constitutional and international human rights obligations," he wrote.
Environmental Law counsel Clogg said she's hopeful October's arguments in court, and public opposition to these projects, will convince Canada's next prime minister to proactively send Northern Gateway and similar projects back to the drawing board.
"The litigation is likely to open up space for politicians to do the right thing," she said.
"You have a legal impetus but also the political space for a 'No' decision."
Why B.C. First Nations oppose the Northern Gateway pipeline
By Gillian Steward, Toronto Star, August 28, 2015
http://www.thestar.com/news/atkinsonseries/2015/08/28/why-bc-first-nations-oppose-the-northern-gateway-pipeline.html
Art Sterritt is the executive director of Coastal First Nations, an alliance of aboriginal groups in British Columbia. Though living about 1,200 kilometres west of the oilsands, Sterritt and other native leaders in the area have developed a keen interest in the production of thick black bitumen.
That's because oilsands developers and Enbridge are proposing the $8-billion Northern Gateway pipeline be built between northern Alberta and the B.C. coast. It would move 525,000 barrels a day of diluted bitumen to Kitimat. There, it would be loaded onto tankers that would have to navigate chains of islands and narrow channels before reaching open sea en route to Asia.
The coastal First Nations in the area, known as the Great Bear Rainforest, make up the majority of the population, and they don't want the pipeline. They particularly don't want tankers full of diluted bitumen — which is much thicker than crude oil — in waters where salmon abound in a complex ecosystem that has supported their people for centuries.
"We are never going to allow pipelines as long as (the oil) can't be cleaned up," Sterritt told an audience in Calgary in June. "We know what happened just to the north of us with the Exxon Valdez."
In March 1989, the Exxon Valdez supertanker struck Bligh Reef and spilled 11 million gallons of crude oil into Alaska's Prince William Sound. It was the worst American spill up to that point, damaging more than 2,000 kilometres of shoreline and killing hundreds of thousands of birds and marine animals and untold numbers of fish.
The Northern Gateway pipeline was the subject of extensive public hearings by the National Energy Board in 2012 and 2013, during which Sterritt's group and others registered their fears. In the end, the National Energy Board approved it with 209 conditions that must be met before it proceeds. The Harper government seconded the motion when it gave its approval a few months later.
But many doubt the pipeline will ever be built because it is the subject of 18 court cases. Enbridge has confirmed that it won't be in service by 2018, as previously predicted.
That's fine with Sterritt, who asserts that it is incumbent on the oil companies to figure out how to clean up a spill should a tanker rupture or capsize.
"So far they haven't done that," he said. "There is no technology available to clean up oil spills. They just keep telling us that the chances of a spill are very low. But that's not good enough."
According to the final report of the Northern Gateway Joint Review Panel, there is significant disagreement among experts about whether the heavy diluted bitumen would sink to the sea bottom if a tanker ruptured, making it much more difficult to clean up than if it were floating on the surface. Enbridge says the diluted bitumen would float, but intervenors from Environment Canada and Fisheries and Oceans testified that their studies were inconclusive.
The joint review panel decided that a spill is "not likely to sink as a continuous layer that coats the seabed or riverbed." But some of the conditions Enbridge must now meet deal with spill response and require further research on the likelihood that diluted bitumen would sink.
Meanwhile, bitumen is being transported by existing pipelines and trains. But as production at oilsands operations increases, there will be more pressure to build a pipeline such as the Northern Gateway.
Gitga'at students use acoustic mapping to fight Enbridge tankers
By Charles Mandel, National Observer, July 20, 2015
One sound the citizens of Hartley Bay aren't keen to hear is the rumble of oil tankers making their way up the Douglas Channel.
So over the last 14 months, members of the Gitga'at Nation have paid close attention to the sounds in their territory. With the help of a geographer – Max Ritts from the University of British Columbia – the Gitga'at have acoustically mapped the region.
Charting the sounds of an area might sound arcane, but it is part of a growing science known as soundscape ecology.
"The idea was we wanted to collect patterns of activity, of ecological diversity, in the territory to better understand the acoustical ecological profile of the territory at a time when things are changing very quickly," Ritts says.
The 'changes' on Ritt's mind are increased tanker traffic in the channel. Enbridge wants 220 tankers annually carrying diluted bitumen from Alberta's oil sands through its proposed Northern Gateway Pipeline project to traverse the narrow route. The tankers would leave from Kitimat and travel through the narrow Douglas Channel, past Hartley Bay — on their way to Asia.
Nor would Enbridge's tankers be the only ships on the route. Vessels from future LNG projects and other industrial projects could potentially mean a major increase in traffic through the channel.
The massive tankers emit a persistent low frequency throb, which as much as any impact on animals could also take its toll on people as well. Ritts believes the sound, that would be around the clock, would bring with it a "sense of unease and anxiety."
But as much as audio unease might unnerve the residents of the tiny British Columbia village, what they really fret over is the possibility of an oil spill and the impact to both their way of life and the area's burgeoning wildlife.
Hartley Bay, described as the "home of the Gitga'at," is predominantly a fishing community, relying primarily on salmon, halibut and seaweed harvesting.
"It's often said that people refer to the oceans as their freezer," Ritts notes. "That's where their food supply is, that's where their way of life is. So a spill would be catastrophic."
In addition, more and more whales keep congregating in the region, he said. The territory is now home to a large humpback population, killer whales, minke whales and, more recently, fin whales.
The audio disturbance could interfere with whale communication underwater, disrupting their ability to forage for food and even maintain coherence as a group as they move along the coast.
The acoustic maps of the area's bio-diversity are one more way the Gitga'at can document what's at stake should the proposal for the tankers move ahead.
"There's a lot of future activity and just having this kind of a future document is one way of preparing for the possible changes that activity could introduce," Ritts says.
"A lot of silence"
For the project, Ritts partnered with the students of Hartley Bay School. Together, they installed eight battery-powered recording devices known as "Song Meters" eight miles apart from each other. The Song Meters ranged from near Kitimat to Otter Channel.
The devices digitally record everything from the wind and the waves to birdsong and whale blows. "One of the most important things we found was a lot of silence, the regular activity of a northern coastline, which is to say, lots of waves, lots of wind, lots of calm periods before the day begins," Ritts says.

Max Ritts working with a Song Meter. Photo courtesy of Max Ritts.
By recording the existing soundscape, Ritts is able to build a profile of how the territory currently sounds. This is important, because one of the major concerns is no one knows what the real impact will be when the entire eco-system is transformed into a trans-oceanic shipping route.
Ritts and the Hartley Bay students recorded 257,327 sound files, or over 4,000 hours' worth. They're currently analyzing the data. They picked up sounds of birds and whales, and haven't heard many ground animals such as bears or wolves yet. But they still have hours of files to comb through.
Soundscape ecology is on the rise, according to an article in the research journal Science. The magazine reports that scientists are collecting terabytes of information in order to fully understand the impacts of disturbances— ranging from construction projects to the arrival of invasive species.
Sound data provides a snapshot of the region
In the case of Hartley Bay, Cam Hill, the principal and a teacher at the local school, says the data provides a snapshot of what's taking place in the region. He hopes the soundscapes will lead to a better understanding of questions such as why more whales are gathering in the area and are focused on certain waters. He also wonders about the impact of noise on the giant mammals.
"To me, those are all unknowns and for us to be able to gain an understanding of the way they interact with the environment, we need to delve into that a little bit more," Hill says.
One of the project's important aspects was to make it community-based. Ritts worked with some of the older kids at the 34-student school, who helped him place the Song Meters as well as maintain and gather data from them.
"That really changed the goal of the project," Ritts notes, "because it struck me as a great way to work with the community and collaborate on something."
Two of the students who worked on the project were cousins, Steven and Ethan Dundas. Steven, 18, says he learned how much biodiversity surrounds him and that it needs his care.
Ethan, 15, recalls hearing sounds he didn't know existed from birds he'd never heard before.
"I learned that the animals in our territory are important and it wouldn't be good if the tankers came through. [The animals] could all be gone just like that if a crash happened."

Max Ritts with cousins Ethan and Steven Dundas. Photo courtesy of Max Ritts.
Ritts says working with the community was one of the best aspects of the project, as it put him in contact with what he calls an "amazing" school with dedicated teachers and students. He says they were all interested in learning more about the territory, and that they helped him learn about the region in the process.
The goal for both Ritts and the Gitga'at community now is to publish the research in a paper with contributions from the students. Ritts says publication is important because it will provide the project with legitimacy if the community needs to engage with proponents in the future.
Enbridge court argument claiming Aboriginal support called 'delusional'
Vancouver Observer, July 20, 2015
First Nations leaders across the province are reacting with anger and disbelief today after learning Enbridge has claimed in court that most impacted Aboriginal groups support its Northern Gateway pipeline and tankers proposal.
In documents recently filed with the Federal Court of Appeal, Northern Gateway is attempting to speak on behalf of First Nations, say First Nations leaders, which is not only disrespectful but proof that the company's claim is out of touch with reality.
"Let's be clear, First Nations have overwhelmingly rejected the Northern Gateway project," Grand Chief Stewart Phillip of the Union of British Columbia Indian Chiefs said in a press release Monday. "When Enbridge chooses to join us in the real world it will see there's a wall of deeply committed First Nations that have said Northern Gateway is never going to happen."
First Nations whose territories comprise a majority of the proposed Northern Gateway pipeline and tanker routes, and many downstream First Nations potentially impacted by the threat of oil spills, have publically declared opposition to the project, yet Northern Gateway claims in its written argument to the court that: "Most affected Aboriginal groups are supportive of the Project and are looking forward to the social and economic benefits it will bring if allowed to proceed."
"It is completely inappropriate for Northern Gateway to purport to speak to a court on behalf of First Nations in such a self-serving manner," said Grand Chief Ed John of the First Nations Summit. "This is another unfortunate example of Northern Gateway trying to charge ahead without regard for the clear rejection of the project by First Nations."
The members of both the Union of BC Indian Chiefs and the First Nations Summit have passed resolutions in opposition to Northern Gateway. Chief Karen Ogen emphasized on behalf of the Yinka Dene Alliance that the First Nations in court against Northern Gateway have broad support.
"We stand with the representatives of more than 100 First Nations that have signed the Save the Fraser Declaration rejecting Northern Gateway, and fully support the members of the Yinka Dene Alliance and other First Nations in court challenging the project."
The 18 consolidated legal challenges to the federal approval of Northern Gateway are scheduled to be heard at the Federal Court of Appeal in Vancouver on Oct. 1-2 and 5-8.
Gitga'at First Nation launches legal challenge to Pacific Northwest LNG
By Gordon Hoekstra, Vancouver Sun, July 07, 2015
The Gitga'at First Nation has launched a legal challenge against Pacific Northwest LNG.
The First Nation is seeking a judicial review of the B.C. government's handling of consultation for the liquefied natural gas project on Lelu Island, near Prince Rupert in northwest B.C.
Led by Malaysian state-controlled Petronas, the project's total cost is estimated at $36 billion, which includes the LNG terminal, pipeline to northeast B.C. and development of natural gas supplies.
In a news release, the Gitga'at said the review filed in B.C. Supreme Court targets a decision of the B.C. Environmental Assessment Office, which does not recognize the Gitga'at First Nation as being one of the Tsimshian First Nations entitled to full consultation on the project.
"Anthropological evidence and our Adawx, which are the oral records of the Gitga'at, show that we have fished and hunted in Prince Rupert Harbour and the lower Skeena River since before the European settlers arrived," Arnold Clifton, chief councillor of the Gitga'at First Nation, said in a written statement.
"Prince Rupert Harbour is a large part of our social, cultural and economic life and proposed LNG developments would impact the rights and livelihood of every Gitga'at member," he said.
Although B.C. Finance Minister Michael de Jong said this morning he did not know the details of the Gitga'at's concerns, he said as issues arise it's important to deal with them constructively.
"But by and large any rationale analysis, reasonable analysis, of what has taken place with respect to this project and the development of the industry in general, would conclude this represented a positive example of how people can work together and how, done properly, benefit can accrue to all in an equitable way," said de Jong.
He was referring to agreements signed with First Nations by the province and companies to share benefits from the development of natural gas pipelines and LNG plants.
On the Pacific Northwest LNG project, about eight First Nations have signed LNG terminal or pipeline agreements.
But this latest salvo from the Gitga'at adds to First Nation concerns surrounding the project.
Six weeks ago, the Lax Kw'alaams First Nation rejected a $1.15-billion benefits package from the company and province in three community votes.
In rejecting the benefits package, the Lax Kw'alaams noted that a 1973 report from federal scientists said Flora Bank off of Lelu Island was prime salmon-rearing habitat that should be protected. In a written statement it issued following the rejection, the Lax Kw'alaams said it was open to LNG development, but not close to Flora Bank.
Also on Monday morning, de Jong signed an agreement with India Oil, which has a 10 per cent stake in the Pacific Northwest LNG project.
The agreement is part of a larger agreement that will lock in natural gas royalties over decades and indemnify the Petronas-led LNG project from industry-specific tax increases.
Both are intended to provide certainty to the Petronas-led Pacific Northwest LNG project and encourage them to make a final investment decision to build a project in British Columbia.
Enbridge keeps the faith in Gateway as pipeline debate rages
By | Yadullah Hussain, Financial Post , July 03, 2015
Al Monaco has not lost his hankering for a Timmies coffee and still savours his "absolutely black, dark roast" cup of joe.
"That's the only way you get the true taste of the coffee," says Monaco. "You don't want to mess that with cream and sugar."
The CEO of Enbridge Inc. could have been forgiven for losing his taste for Canada's iconic coffee brand after his company saw its association with Tim Hortons Inc. run completely cold: abruptly, publicly, virally.
In what is now its own chapter in Canadian social media folklore, in June Tims famously yanked the Enbridge ads from its in-house TV channel after an online petition from an American activist group that accused the energy company of misleading the public on "tarsands" oil. What ensued was a noisy backlash from many oilpatch supporters, calling for a Tims boycott.
But Tims is a tough habit to break for Monaco, a hockey dad who spent years bleary eyed around hockey rinks at 7 a.m. with a bitter cup of java as he watched his three boys practice.
And while Tim Hortons may have been unprepared for the scalding backlash, Al Monaco is no stranger to working in the face of adversity.
As the CEO of Canada's largest pipeline company and backer-in-chief of the Northern Gateway, the 54-year-old isn't about to win certain popularity contests, especially in British Columbia where the pipeline is set to link Alberta crude to big, hulking oil tankers destined for Asia.
The $6.5-billion Northern Gateway proposal to take as much as 525,000 barrels per day of Alberta crude to Asian markets via the West Coast, is a lightning rod for many who believe its construction would spell doom for the environment.
Launched in 2004, the project secured regulatory approval in late 2013 with 209 conditions, but few believe the project can get into the ground as First Nations and environmental groups launch an intense — and sure to be vicious — campaign against the project.
So the Tims controversy may have been one of the few where Enbridge came out with less egg on its face than its opponent.
"If you look at what happened afterwards — you really saw the profile of that debate elevated and that's exactly what we needed to see," Monaco said in an interview with Financial Post at the company's Toronto office.
It's a debate that's playing out across Canada. The importance of Alberta's crude oil to Canada's economy, juxtaposed with its impact on the environment has left the nation navel-gazing with major crude oil pipeline projects delayed as First Nations and local communities square-off against Ottawa and the industry.
Monaco says that, while many of the issues surrounding pipelines are policy matters, "we look at it as our job."
"We take it upon ourselves to make sure we are responsible for ensuring that people understand what we do."
Robert Janes, a Victoria-based lawyer for Gitxaala Nation, one of the many aboriginal groups stewarding the West Coast, says it's the company that does not understand the opposition to Northern Gateway.
"How Enbridge sees it is that it's a process of education, and once the company has the opportunity to teach the communities, they will come over to Enbridge's side," Janes said. "A lot of the communities take that as a very insulting statement."
But, notably, in recent months, close observers would have noted that any mention of the project has barely crossed the lips of executives at recent events. But make no mistake, insists Monaco: That doesn't mean the project is dead.
"I wouldn't take the reduced public profile as an indication of our declining interest," Monaco said. "Our partners are right behind us. We are continuing to work on the project. Actually, the lower profile has helped, as it's very hard when you are trying to build relationships and build trust with people and to have that discussion in the media."
Enbridge says 28 out of 45 First Nations along the route are on its side — although none yet from the all-important coastal regions where community activists claim oil tankers will harm marine life.
And while the mothballing of a number of oilsands projects gives Enbridge some breathing room, the project remains crucial to the industry, as just over 1 million barrels per day of additional oil is expected to come on stream over the next 10 years.
Enbridge has already sunk around $500 million into the regulatory costs associated with Northern Gateway, and the final product will likely be costlier than original estimates as the company complies with yet more regulatory burden. Then there are the legal fees and, possibly, new conditions, too, as the company staves off as many as 18 court challenges.
"I think we will probably get more clarity on the cost once we conclude our efforts with the First Nations and communities, and that's probably going to be near the end of the year," Monaco says.
Enbridge and the Canadian government are expected to submit their written arguments to the Federal Court of Appeal on July 7, after Northern Gateway opponents launched a court case challenging the federal government's approval of the project. A hearing is expected in early October.
"The hearings are set for six days which is the longest hearing in the Federal Court of Appeal that has ever been scheduled — the judges have pointed that out to us several times," Janes said.
Monaco, who took over from Patrick Daniels in 2012, expresses regret that the company did not do a better job in the past of engaging with First Nations.
"When we started Gateway 10 to 12 years ago, it was a different world. We probably should have spent more time building trust, taking time with individual First Nations and trying to build that relationship."
Unlike his predecessor, Monaco is less desk-bound and is often out in the field, smoothing relationships with landowners that have traditionally complained of getting short shrift from the industry.
"Enbridge has seen the light," says Dave Core, chief executive of the Canadian Association of Energy and Pipeline Landowner Associations, who is often at loggerheads with the pipeline industry and regulators.
At Enbridge's 2014 annual meeting, Core criticized the company, but returned a year later with fulsome praise.
"In 2014 we began to sense a shift in attitude — an evolution of thinking, if you will, coming from the executive suite at Enbridge," Core told Enbridge investors at a meeting in May, after working with the company on the Canadian portion of the Line 3 replacement project from Hardisty, Alta, to Gretna, Man.
A number of other Enbridge projects are also in the regulatory wringer: The National Energy Board has slapped additional conditions on its Line 9 reversal project, from Sarnia to Montreal, which would push its start date back by at least a year.
Expansion of Alberta Clipper, or the Hardisty-to-Superior Line 67, to 800,000 barrels per day from its current 450,000-bpd, has yet to secure a U.S. presidential permit as it crosses an international border.
While Monaco dismisses Clipper's comparison to rival TransCanada Corp.'s much-maligned Keystone XL, which is awaiting a similar permit, the company is pushing crude by connecting spurs to the parallel Line 3 pipeline. Critics say the company is bypassing regulations.
"Interconnections is what we do," Monaco counters. "We have been absolutely transparent … and we have discussed that with the State Department."
Despite regulatory delays, by 2017 Enbridge expects to expand capacity by 1.7 million bpd — more than three times the size of Northern Gateway.
"In the last decade, we have put 40 projects into the ground, worth $20 billion," Monaco says. "In 2015, we are looking at another $9 billion worth of projects. And in 2016, 2017, 2018 another $24 billion in projects."
The company recently completed the Flanagan South conduit that can transport 600,000 bpd and is expandable to 800,000 bpd, connecting Western Canadian producers' access from Illinois to Cushing, Okla.
From there, Alberta producers have a direct line to the prized Gulf Coast via the 600,000 Seaway pipeline system that Enbridge owns along with Enterprise Products Partners L.P.
The projects down south are part of Enbridge's great push into the Gulf Coast, as the company aims to plug a major gap in its network.
"We have traditionally been focused on Western Canada regional systems, the Bakken system and have huge positions in Chicago region. Now we have access to the Gulf Coast," Monaco says.
http://business.financialpost.com/news/energy/enbridge-keeps-the-faith-in-gateway-as-pipeline-debate-rages">Download related file in PDF format
Opinion: Northern Gateway opposition building steam
By kil tlaats'gaa Peter Lantin & Caitlyn Vernon, Edmonton Journal, July 02, 2015
On the campaign trail leading up to the May 5 Alberta election, Rachel Notley acknowledged loud and clear that there is a solid wall of opposition facing the Enbridge Northern Gateway pipeline project in B.C.
The new premier's statements and the speed that Tim Hortons recently dropped its Enbridge ads in face of thousands of angry Canadians illustrates the reality that one year after the federal government approved the project, the opposition is not only strong and committed, but also growing. Rather than succeeding in clearing the way for Enbridge, the federal government sparked a chain of events that make it very unlikely the project will ever be built.
Immediately following the federal approval, First Nations, environmental groups and the 300,000-strong Unifor went to court to challenge the approval and review process. Enbridge now faces a total of 18 court proceedings and these cases are shining light on the questionable legal position on which the federal government stands.
In court along with other nations are the Haida. The Supreme Court of Canada has affirmed the Haida's strong case of aboriginal title and rights and recently the Federal Court stated that Canada's unilateral decision opening a fishery in the face of Haida concerns compromised the court-mandated reconciliation process, which the Haida have successfully developed for over a quarter of a century with both the federal and provincial governments.
As reconciliation moves forward and projects such as Enbridge are proposed and considered, the strength of the Haida case cannot be ignored. Compounding that are other First Nations litigation.
These legal cases are the best way to stop this pipeline, and that is why a community group in Terrace, B.C., held a spaghetti dinner a year ago, raised $2,000 in support, then called on the rest of the provinces and Canada to step up.
Sierra Club BC and RAVEN Trust launched the Pull Together initiative as a way for British Columbians and the rest of the country to give financial and moral support to the nations that are in court to stop Enbridge.
Pull Together has already raised more than $400,000 through individual donations, community events and local businesses donating their profit margin. More than 100 businesses are involved. Many farmers are donating their hard-earned proceeds to Pull Together throughout the summer in the knowledge that we are all dependent on the land, water and air. Denman Island Chocolate has produced a Pull Together chocolate bar, with proceeds going to support the legal challenges.
These businesses understand the proposed pipeline is not good for the economy. Enbridge would put at risk tens of thousands of jobs and ways of living that are inextricably bound to the land and sea.
Local businesses are a different story; they offer hope for a robust economic future in our communities, one that is grounded in working with First Nations and at the same time respectful of our differences.
Together, we marked the one-year anniversary of the federal decision to approve the project with the Week to End Enbridge, June 13-21. This second wave of fundraising seeks to raise a further $200,000 for the First Nations legal challenges aimed at overturning the federal government's decision.
In addition to local business involvement, grassroots fundraising events are taking place across B.C., from Prince George to Terrace, Fort St. James to Kelowna, Haida Gwaii to Golden, and from the coast to the Kootenays.
Corporations such as Enbridge aren't used to taking no for an answer. They aren't backing down, but neither are we. Since last June, the resolve of British Columbians to protect the West Coast from tankers carrying diluted bitumen has only strengthened. And the need for reconciliation of Canada's troubled history with First Nations is ever clearer.
With the Haida, Gitga'at, Gitxaala, Heiltsuk, Kitasoo/Xai-xais, Nak'azdli, and Nadleh Whut'en pulling together in court, and British Columbians lining up to support them, this project faces an opposition that will go to the wall time and again.
kil tlaats'gaa Peter Lantin is president of the Haida Nation and Caitlyn Vernon is with the Sierra Club B.C.
Kai Nagata: Is Northern Gateway B.C.'s National Energy Program?
By Kai Nagata, National Post, June 19, 2015
It's a program that has engendered distrust and alienation between Ottawa and the West: a symbol of the government's bloody-minded determination to dictate energy policy from Central Canada.
No, not Pierre Elliott Trudeau's National Energy Program – which was pitched in the 1980s as a plan to secure the country's oil supply at Alberta's material expense. These days it's Northern Gateway that has become a symbol of imperial meddling: this time, at the environmental and financial expense of British Columbia, should anything go awry between the Rockies and the open sea.
Tethered to a series of unpopular moves on the part of the government, including cuts to marine safety, weakened environmental laws, and beefed-up surveillance against environmental protestors, Northern Gateway threatens not only relations between the province and Ottawa, it stands perilously close to creating the same kind of political wave that eventually swept the federal Liberals out of power.
Reform MPs like Stephen Harper fought against many of the same things British Columbians face today: a paternalistic federal government, deaf to regional concerns, hell-bent on promoting an energy agenda opposed by the people most affected. In this case, it's the coastal communities and First Nations whose way of life would be erased by a tanker spill.
One year after being greenlit by the federal cabinet and the National Energy Board (with conditions), the project nonetheless looks shakier than ever. Eight First Nations are challenging the approval in federal court starting in October. Any one of those cases could hold up development of the line for years.
The constitution requires the government consult First Nations groups on projects like Northern Gateway. When infrastructure is set to cross unceded territory – lands over which Indigenous communities assert collective ownership – the legal implications become all the more complicated.
Meanwhile Alberta's new premier, Rachel Notley, says she won't fight for it. As of Enbridge's last filing with the National Energy Board, not a single oil producer will sign a firm shipping contract.
But the project's not dead yet. And, ultimately, it's the federal government that has the power to approve or deny infrastructure projects like pipelines.
Enbridge has become a liability for Conservative candidates in every B.C. riding touching salt water.
The courts may, or may not, stop construction, but as with the NEP, it's political pressure on lawmakers that will prove decisive. There are early signs that a shift like this may already be afoot. Enbridge has become a liability for Conservative candidates in every B.C. riding touching salt water. Seat projections by ThreeHundredEight.com have the Conservatives losing seven of their 21 B.C. incumbents, while being shut out of six new ridings created by redistribution.
Party whip John Duncan is ten points behind the NDP in his northern Vancouver Island constituency, according to a telephone poll of 300 local voters conducted by Insights West for Dogwood Initiative. When respondents were asked who they voted for in 2011, the numbers lined up with actual results. But as many as three in five former Tories in coastal ridings now say they plan to vote for other parties.
At the same time, a majority of 2011 Conservative supporters report disagreement with the federal government's approach on oil tankers. Knock on doors anywhere from Comox to Deep Cove and the pattern becomes clear.
The desire for representation on this issue in Ottawa has British Columbians looking to opposition politicians, all of whom have promised to cancel Northern Gateway if they form government. But citizens are also counting on First Nations to defend local interests.
This week a fundraising drive has people across the province organizing events to help cover court costs for seven of the First Nations challenging the project approval. Called "Pull Together," the campaign has raised more than $450,000 so far.
This alignment between First Nations and British Columbians is coalescing into a regional political movement with the potential to become as powerful as Reform twenty years ago in Alberta. Sooner or later, Enbridge will be defeated in B.C. The only question is whether the current government goes down with it.
Kai Nagata is Energy & Democracy Director at Dogwood Initiative, British Columbia's largest nonpartisan citizen group
Northern communities will not allow Northern Gateway to be built
Friends of Wild Salmon, June 17, 2015
FOR IMMEDIATE RELEASE
June 17, 2015


Northern communities will not allow Northern Gateway to be built

SMITHERS, BC – One year after federal approval, opposition to the Enbridge Northern Gateway pipeline and tanker project is stronger than ever.

Ever since Northern Gateway was first proposed, First Nations and northern communities have stood together to protect their lands and waters - on the streets, in community halls, in the JRP hearing room, and now in the courts. Our wall of opposition is unbroken.

"It is not up to Enbridge or the federal government to decide, it is up to the people who live here and they have unequivocally said 'No'", asserted Gerald Amos, Chair of the Friends of Wild Salmon coalition. "Coastal First Nations have a tanker ban through their waters and the Save the Fraser Declaration bans tar sands oil over land."

"The Skeena watershed has a history of defending our wild salmon. We stopped fish farms on the North Coast, coalbed methane drilling in the Sacred Headwaters, and we will stop Enbridge. From Haida Gwaii to Terrace to Fort St. James, communities have said no and will continue to say no until this project is dead for good", said Amos.

"The Skeena River runs right through Terrace and every year the salmon runs provide us with food and contribute to our local economy. There are no assurances that Enbridge or the federal government can make that will change our minds – this project is too risky and we will not allow it to be built", affirmed Anne Hill of Northwest Watch in Terrace, BC.

"When Enbridge first proposed its pipeline in 2009 our community knew it was too risky. Following the leadership of the Wet'suwet'en, we came together as a united voice with the rest of the watershed to say 'no' - not now and not ever', stated Dawn Remington of Friends of Morice Bulkley in Smithers.

"Last year in Kitimat, local residents came together in a municipal plebiscite and decisively voted "no" to Northern Gateway. This is not a community that is opposed to development but Northern Gateway is simply not worth the risk", declared Patricia Lange of Douglas Channel Watch in Kitimat. "I've seen the narrow Douglas Channel in a storm and it is no place for super tankers."

"The oil industry is desperate to break the unity of North Coast people against oil tankers, but we have a history of defending our great salmon wealth", declared Luanne Roth of the T. Buck Environmental Foundation in Prince Rupert. "Our future does not include oil spills, it includes millions of wild salmon and the local jobs and healthy communities which come with them."

"Fort St. James is standing in solidarity with local First Nations, the Nak'azdli and Nadleh Whut'en, as they take Enbridge to court to protect their lands. Since Enbridge first proposed their pipeline and tanker project, we have come together as a community with the shared purpose of ensuring Enbridge is not a part of our future", said Brenda Gouglas of the Fort St. James Sustainability Group.

There are 13 groups with court cases against Northern Gateway including First Nations, conservation organizations and Unifor. Communities across the north and across the province are coming together in a "Week to End Enbridge" from June 13 - 21, organizing fundraisers to support First Nation legal fees.
Aboriginal Title & Rights with LOUISE MANDELL
, June 03, 2015
Are you interested in First Nations unity and Aboriginal sovereignty? Do you want to learn more about upholding Aboriginal authority in the face of large-scale development, such as proposed LNG pipelines and plants?

Join us for an evening discussion with renowned Aboriginal title and rights lawyer, Louise Mandell. Ms Mandell will speak on the legal and political implications of the Delgamuukw and Tsilhqot'in decisions. She will discuss how First Nations can collaborate to exert their inherent and Aboriginal authority.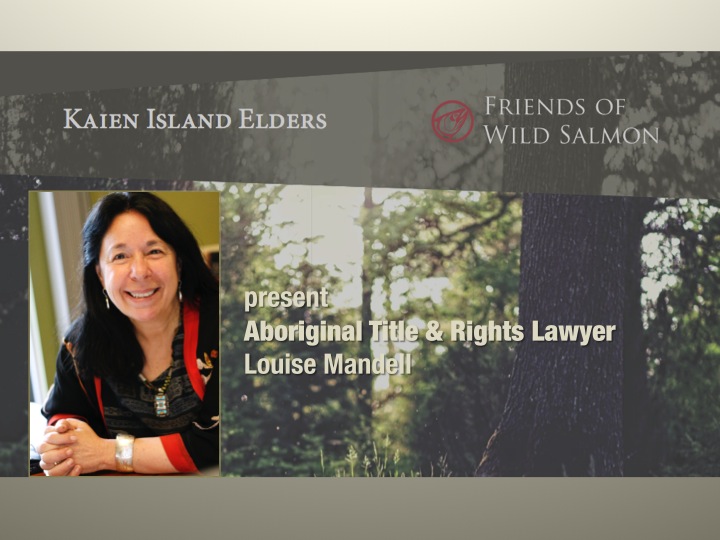 Date: Thursday, June 11th
Time: 7pm
Place: Nisga'a Hall, Prince Rupert
Everyone welcome
Sponsored by the Kaien Island Elders and Friends of Wild Salmon