Gitga'at students use acoustic mapping to fight Enbridge tankers
By Charles Mandel, National Observer, July 20, 2015
One sound the citizens of Hartley Bay aren't keen to hear is the rumble of oil tankers making their way up the Douglas Channel.
So over the last 14 months, members of the Gitga'at Nation have paid close attention to the sounds in their territory. With the help of a geographer – Max Ritts from the University of British Columbia – the Gitga'at have acoustically mapped the region.
Charting the sounds of an area might sound arcane, but it is part of a growing science known as soundscape ecology.
"The idea was we wanted to collect patterns of activity, of ecological diversity, in the territory to better understand the acoustical ecological profile of the territory at a time when things are changing very quickly," Ritts says.
The 'changes' on Ritt's mind are increased tanker traffic in the channel. Enbridge wants 220 tankers annually carrying diluted bitumen from Alberta's oil sands through its proposed Northern Gateway Pipeline project to traverse the narrow route. The tankers would leave from Kitimat and travel through the narrow Douglas Channel, past Hartley Bay — on their way to Asia.
Nor would Enbridge's tankers be the only ships on the route. Vessels from future LNG projects and other industrial projects could potentially mean a major increase in traffic through the channel.
The massive tankers emit a persistent low frequency throb, which as much as any impact on animals could also take its toll on people as well. Ritts believes the sound, that would be around the clock, would bring with it a "sense of unease and anxiety."
But as much as audio unease might unnerve the residents of the tiny British Columbia village, what they really fret over is the possibility of an oil spill and the impact to both their way of life and the area's burgeoning wildlife.
Hartley Bay, described as the "home of the Gitga'at," is predominantly a fishing community, relying primarily on salmon, halibut and seaweed harvesting.
"It's often said that people refer to the oceans as their freezer," Ritts notes. "That's where their food supply is, that's where their way of life is. So a spill would be catastrophic."
In addition, more and more whales keep congregating in the region, he said. The territory is now home to a large humpback population, killer whales, minke whales and, more recently, fin whales.
The audio disturbance could interfere with whale communication underwater, disrupting their ability to forage for food and even maintain coherence as a group as they move along the coast.
The acoustic maps of the area's bio-diversity are one more way the Gitga'at can document what's at stake should the proposal for the tankers move ahead.
"There's a lot of future activity and just having this kind of a future document is one way of preparing for the possible changes that activity could introduce," Ritts says.
"A lot of silence"
For the project, Ritts partnered with the students of Hartley Bay School. Together, they installed eight battery-powered recording devices known as "Song Meters" eight miles apart from each other. The Song Meters ranged from near Kitimat to Otter Channel.
The devices digitally record everything from the wind and the waves to birdsong and whale blows. "One of the most important things we found was a lot of silence, the regular activity of a northern coastline, which is to say, lots of waves, lots of wind, lots of calm periods before the day begins," Ritts says.

Max Ritts working with a Song Meter. Photo courtesy of Max Ritts.
By recording the existing soundscape, Ritts is able to build a profile of how the territory currently sounds. This is important, because one of the major concerns is no one knows what the real impact will be when the entire eco-system is transformed into a trans-oceanic shipping route.
Ritts and the Hartley Bay students recorded 257,327 sound files, or over 4,000 hours' worth. They're currently analyzing the data. They picked up sounds of birds and whales, and haven't heard many ground animals such as bears or wolves yet. But they still have hours of files to comb through.
Soundscape ecology is on the rise, according to an article in the research journal Science. The magazine reports that scientists are collecting terabytes of information in order to fully understand the impacts of disturbances— ranging from construction projects to the arrival of invasive species.
Sound data provides a snapshot of the region
In the case of Hartley Bay, Cam Hill, the principal and a teacher at the local school, says the data provides a snapshot of what's taking place in the region. He hopes the soundscapes will lead to a better understanding of questions such as why more whales are gathering in the area and are focused on certain waters. He also wonders about the impact of noise on the giant mammals.
"To me, those are all unknowns and for us to be able to gain an understanding of the way they interact with the environment, we need to delve into that a little bit more," Hill says.
One of the project's important aspects was to make it community-based. Ritts worked with some of the older kids at the 34-student school, who helped him place the Song Meters as well as maintain and gather data from them.
"That really changed the goal of the project," Ritts notes, "because it struck me as a great way to work with the community and collaborate on something."
Two of the students who worked on the project were cousins, Steven and Ethan Dundas. Steven, 18, says he learned how much biodiversity surrounds him and that it needs his care.
Ethan, 15, recalls hearing sounds he didn't know existed from birds he'd never heard before.
"I learned that the animals in our territory are important and it wouldn't be good if the tankers came through. [The animals] could all be gone just like that if a crash happened."

Max Ritts with cousins Ethan and Steven Dundas. Photo courtesy of Max Ritts.
Ritts says working with the community was one of the best aspects of the project, as it put him in contact with what he calls an "amazing" school with dedicated teachers and students. He says they were all interested in learning more about the territory, and that they helped him learn about the region in the process.
The goal for both Ritts and the Gitga'at community now is to publish the research in a paper with contributions from the students. Ritts says publication is important because it will provide the project with legitimacy if the community needs to engage with proponents in the future.
Enbridge court argument claiming Aboriginal support called 'delusional'
Vancouver Observer, July 20, 2015
First Nations leaders across the province are reacting with anger and disbelief today after learning Enbridge has claimed in court that most impacted Aboriginal groups support its Northern Gateway pipeline and tankers proposal.
In documents recently filed with the Federal Court of Appeal, Northern Gateway is attempting to speak on behalf of First Nations, say First Nations leaders, which is not only disrespectful but proof that the company's claim is out of touch with reality.
"Let's be clear, First Nations have overwhelmingly rejected the Northern Gateway project," Grand Chief Stewart Phillip of the Union of British Columbia Indian Chiefs said in a press release Monday. "When Enbridge chooses to join us in the real world it will see there's a wall of deeply committed First Nations that have said Northern Gateway is never going to happen."
First Nations whose territories comprise a majority of the proposed Northern Gateway pipeline and tanker routes, and many downstream First Nations potentially impacted by the threat of oil spills, have publically declared opposition to the project, yet Northern Gateway claims in its written argument to the court that: "Most affected Aboriginal groups are supportive of the Project and are looking forward to the social and economic benefits it will bring if allowed to proceed."
"It is completely inappropriate for Northern Gateway to purport to speak to a court on behalf of First Nations in such a self-serving manner," said Grand Chief Ed John of the First Nations Summit. "This is another unfortunate example of Northern Gateway trying to charge ahead without regard for the clear rejection of the project by First Nations."
The members of both the Union of BC Indian Chiefs and the First Nations Summit have passed resolutions in opposition to Northern Gateway. Chief Karen Ogen emphasized on behalf of the Yinka Dene Alliance that the First Nations in court against Northern Gateway have broad support.
"We stand with the representatives of more than 100 First Nations that have signed the Save the Fraser Declaration rejecting Northern Gateway, and fully support the members of the Yinka Dene Alliance and other First Nations in court challenging the project."
The 18 consolidated legal challenges to the federal approval of Northern Gateway are scheduled to be heard at the Federal Court of Appeal in Vancouver on Oct. 1-2 and 5-8.
Gitga'at First Nation launches legal challenge to Pacific Northwest LNG
By Gordon Hoekstra, Vancouver Sun, July 07, 2015
The Gitga'at First Nation has launched a legal challenge against Pacific Northwest LNG.
The First Nation is seeking a judicial review of the B.C. government's handling of consultation for the liquefied natural gas project on Lelu Island, near Prince Rupert in northwest B.C.
Led by Malaysian state-controlled Petronas, the project's total cost is estimated at $36 billion, which includes the LNG terminal, pipeline to northeast B.C. and development of natural gas supplies.
In a news release, the Gitga'at said the review filed in B.C. Supreme Court targets a decision of the B.C. Environmental Assessment Office, which does not recognize the Gitga'at First Nation as being one of the Tsimshian First Nations entitled to full consultation on the project.
"Anthropological evidence and our Adawx, which are the oral records of the Gitga'at, show that we have fished and hunted in Prince Rupert Harbour and the lower Skeena River since before the European settlers arrived," Arnold Clifton, chief councillor of the Gitga'at First Nation, said in a written statement.
"Prince Rupert Harbour is a large part of our social, cultural and economic life and proposed LNG developments would impact the rights and livelihood of every Gitga'at member," he said.
Although B.C. Finance Minister Michael de Jong said this morning he did not know the details of the Gitga'at's concerns, he said as issues arise it's important to deal with them constructively.
"But by and large any rationale analysis, reasonable analysis, of what has taken place with respect to this project and the development of the industry in general, would conclude this represented a positive example of how people can work together and how, done properly, benefit can accrue to all in an equitable way," said de Jong.
He was referring to agreements signed with First Nations by the province and companies to share benefits from the development of natural gas pipelines and LNG plants.
On the Pacific Northwest LNG project, about eight First Nations have signed LNG terminal or pipeline agreements.
But this latest salvo from the Gitga'at adds to First Nation concerns surrounding the project.
Six weeks ago, the Lax Kw'alaams First Nation rejected a $1.15-billion benefits package from the company and province in three community votes.
In rejecting the benefits package, the Lax Kw'alaams noted that a 1973 report from federal scientists said Flora Bank off of Lelu Island was prime salmon-rearing habitat that should be protected. In a written statement it issued following the rejection, the Lax Kw'alaams said it was open to LNG development, but not close to Flora Bank.
Also on Monday morning, de Jong signed an agreement with India Oil, which has a 10 per cent stake in the Pacific Northwest LNG project.
The agreement is part of a larger agreement that will lock in natural gas royalties over decades and indemnify the Petronas-led LNG project from industry-specific tax increases.
Both are intended to provide certainty to the Petronas-led Pacific Northwest LNG project and encourage them to make a final investment decision to build a project in British Columbia.
Enbridge keeps the faith in Gateway as pipeline debate rages
By | Yadullah Hussain, Financial Post , July 03, 2015
Al Monaco has not lost his hankering for a Timmies coffee and still savours his "absolutely black, dark roast" cup of joe.
"That's the only way you get the true taste of the coffee," says Monaco. "You don't want to mess that with cream and sugar."
The CEO of Enbridge Inc. could have been forgiven for losing his taste for Canada's iconic coffee brand after his company saw its association with Tim Hortons Inc. run completely cold: abruptly, publicly, virally.
In what is now its own chapter in Canadian social media folklore, in June Tims famously yanked the Enbridge ads from its in-house TV channel after an online petition from an American activist group that accused the energy company of misleading the public on "tarsands" oil. What ensued was a noisy backlash from many oilpatch supporters, calling for a Tims boycott.
But Tims is a tough habit to break for Monaco, a hockey dad who spent years bleary eyed around hockey rinks at 7 a.m. with a bitter cup of java as he watched his three boys practice.
And while Tim Hortons may have been unprepared for the scalding backlash, Al Monaco is no stranger to working in the face of adversity.
As the CEO of Canada's largest pipeline company and backer-in-chief of the Northern Gateway, the 54-year-old isn't about to win certain popularity contests, especially in British Columbia where the pipeline is set to link Alberta crude to big, hulking oil tankers destined for Asia.
The $6.5-billion Northern Gateway proposal to take as much as 525,000 barrels per day of Alberta crude to Asian markets via the West Coast, is a lightning rod for many who believe its construction would spell doom for the environment.
Launched in 2004, the project secured regulatory approval in late 2013 with 209 conditions, but few believe the project can get into the ground as First Nations and environmental groups launch an intense — and sure to be vicious — campaign against the project.
So the Tims controversy may have been one of the few where Enbridge came out with less egg on its face than its opponent.
"If you look at what happened afterwards — you really saw the profile of that debate elevated and that's exactly what we needed to see," Monaco said in an interview with Financial Post at the company's Toronto office.
It's a debate that's playing out across Canada. The importance of Alberta's crude oil to Canada's economy, juxtaposed with its impact on the environment has left the nation navel-gazing with major crude oil pipeline projects delayed as First Nations and local communities square-off against Ottawa and the industry.
Monaco says that, while many of the issues surrounding pipelines are policy matters, "we look at it as our job."
"We take it upon ourselves to make sure we are responsible for ensuring that people understand what we do."
Robert Janes, a Victoria-based lawyer for Gitxaala Nation, one of the many aboriginal groups stewarding the West Coast, says it's the company that does not understand the opposition to Northern Gateway.
"How Enbridge sees it is that it's a process of education, and once the company has the opportunity to teach the communities, they will come over to Enbridge's side," Janes said. "A lot of the communities take that as a very insulting statement."
But, notably, in recent months, close observers would have noted that any mention of the project has barely crossed the lips of executives at recent events. But make no mistake, insists Monaco: That doesn't mean the project is dead.
"I wouldn't take the reduced public profile as an indication of our declining interest," Monaco said. "Our partners are right behind us. We are continuing to work on the project. Actually, the lower profile has helped, as it's very hard when you are trying to build relationships and build trust with people and to have that discussion in the media."
Enbridge says 28 out of 45 First Nations along the route are on its side — although none yet from the all-important coastal regions where community activists claim oil tankers will harm marine life.
And while the mothballing of a number of oilsands projects gives Enbridge some breathing room, the project remains crucial to the industry, as just over 1 million barrels per day of additional oil is expected to come on stream over the next 10 years.
Enbridge has already sunk around $500 million into the regulatory costs associated with Northern Gateway, and the final product will likely be costlier than original estimates as the company complies with yet more regulatory burden. Then there are the legal fees and, possibly, new conditions, too, as the company staves off as many as 18 court challenges.
"I think we will probably get more clarity on the cost once we conclude our efforts with the First Nations and communities, and that's probably going to be near the end of the year," Monaco says.
Enbridge and the Canadian government are expected to submit their written arguments to the Federal Court of Appeal on July 7, after Northern Gateway opponents launched a court case challenging the federal government's approval of the project. A hearing is expected in early October.
"The hearings are set for six days which is the longest hearing in the Federal Court of Appeal that has ever been scheduled — the judges have pointed that out to us several times," Janes said.
Monaco, who took over from Patrick Daniels in 2012, expresses regret that the company did not do a better job in the past of engaging with First Nations.
"When we started Gateway 10 to 12 years ago, it was a different world. We probably should have spent more time building trust, taking time with individual First Nations and trying to build that relationship."
Unlike his predecessor, Monaco is less desk-bound and is often out in the field, smoothing relationships with landowners that have traditionally complained of getting short shrift from the industry.
"Enbridge has seen the light," says Dave Core, chief executive of the Canadian Association of Energy and Pipeline Landowner Associations, who is often at loggerheads with the pipeline industry and regulators.
At Enbridge's 2014 annual meeting, Core criticized the company, but returned a year later with fulsome praise.
"In 2014 we began to sense a shift in attitude — an evolution of thinking, if you will, coming from the executive suite at Enbridge," Core told Enbridge investors at a meeting in May, after working with the company on the Canadian portion of the Line 3 replacement project from Hardisty, Alta, to Gretna, Man.
A number of other Enbridge projects are also in the regulatory wringer: The National Energy Board has slapped additional conditions on its Line 9 reversal project, from Sarnia to Montreal, which would push its start date back by at least a year.
Expansion of Alberta Clipper, or the Hardisty-to-Superior Line 67, to 800,000 barrels per day from its current 450,000-bpd, has yet to secure a U.S. presidential permit as it crosses an international border.
While Monaco dismisses Clipper's comparison to rival TransCanada Corp.'s much-maligned Keystone XL, which is awaiting a similar permit, the company is pushing crude by connecting spurs to the parallel Line 3 pipeline. Critics say the company is bypassing regulations.
"Interconnections is what we do," Monaco counters. "We have been absolutely transparent … and we have discussed that with the State Department."
Despite regulatory delays, by 2017 Enbridge expects to expand capacity by 1.7 million bpd — more than three times the size of Northern Gateway.
"In the last decade, we have put 40 projects into the ground, worth $20 billion," Monaco says. "In 2015, we are looking at another $9 billion worth of projects. And in 2016, 2017, 2018 another $24 billion in projects."
The company recently completed the Flanagan South conduit that can transport 600,000 bpd and is expandable to 800,000 bpd, connecting Western Canadian producers' access from Illinois to Cushing, Okla.
From there, Alberta producers have a direct line to the prized Gulf Coast via the 600,000 Seaway pipeline system that Enbridge owns along with Enterprise Products Partners L.P.
The projects down south are part of Enbridge's great push into the Gulf Coast, as the company aims to plug a major gap in its network.
"We have traditionally been focused on Western Canada regional systems, the Bakken system and have huge positions in Chicago region. Now we have access to the Gulf Coast," Monaco says.
http://business.financialpost.com/news/energy/enbridge-keeps-the-faith-in-gateway-as-pipeline-debate-rages">Download related file in PDF format
Opinion: Northern Gateway opposition building steam
By kil tlaats'gaa Peter Lantin & Caitlyn Vernon, Edmonton Journal, July 02, 2015
On the campaign trail leading up to the May 5 Alberta election, Rachel Notley acknowledged loud and clear that there is a solid wall of opposition facing the Enbridge Northern Gateway pipeline project in B.C.
The new premier's statements and the speed that Tim Hortons recently dropped its Enbridge ads in face of thousands of angry Canadians illustrates the reality that one year after the federal government approved the project, the opposition is not only strong and committed, but also growing. Rather than succeeding in clearing the way for Enbridge, the federal government sparked a chain of events that make it very unlikely the project will ever be built.
Immediately following the federal approval, First Nations, environmental groups and the 300,000-strong Unifor went to court to challenge the approval and review process. Enbridge now faces a total of 18 court proceedings and these cases are shining light on the questionable legal position on which the federal government stands.
In court along with other nations are the Haida. The Supreme Court of Canada has affirmed the Haida's strong case of aboriginal title and rights and recently the Federal Court stated that Canada's unilateral decision opening a fishery in the face of Haida concerns compromised the court-mandated reconciliation process, which the Haida have successfully developed for over a quarter of a century with both the federal and provincial governments.
As reconciliation moves forward and projects such as Enbridge are proposed and considered, the strength of the Haida case cannot be ignored. Compounding that are other First Nations litigation.
These legal cases are the best way to stop this pipeline, and that is why a community group in Terrace, B.C., held a spaghetti dinner a year ago, raised $2,000 in support, then called on the rest of the provinces and Canada to step up.
Sierra Club BC and RAVEN Trust launched the Pull Together initiative as a way for British Columbians and the rest of the country to give financial and moral support to the nations that are in court to stop Enbridge.
Pull Together has already raised more than $400,000 through individual donations, community events and local businesses donating their profit margin. More than 100 businesses are involved. Many farmers are donating their hard-earned proceeds to Pull Together throughout the summer in the knowledge that we are all dependent on the land, water and air. Denman Island Chocolate has produced a Pull Together chocolate bar, with proceeds going to support the legal challenges.
These businesses understand the proposed pipeline is not good for the economy. Enbridge would put at risk tens of thousands of jobs and ways of living that are inextricably bound to the land and sea.
Local businesses are a different story; they offer hope for a robust economic future in our communities, one that is grounded in working with First Nations and at the same time respectful of our differences.
Together, we marked the one-year anniversary of the federal decision to approve the project with the Week to End Enbridge, June 13-21. This second wave of fundraising seeks to raise a further $200,000 for the First Nations legal challenges aimed at overturning the federal government's decision.
In addition to local business involvement, grassroots fundraising events are taking place across B.C., from Prince George to Terrace, Fort St. James to Kelowna, Haida Gwaii to Golden, and from the coast to the Kootenays.
Corporations such as Enbridge aren't used to taking no for an answer. They aren't backing down, but neither are we. Since last June, the resolve of British Columbians to protect the West Coast from tankers carrying diluted bitumen has only strengthened. And the need for reconciliation of Canada's troubled history with First Nations is ever clearer.
With the Haida, Gitga'at, Gitxaala, Heiltsuk, Kitasoo/Xai-xais, Nak'azdli, and Nadleh Whut'en pulling together in court, and British Columbians lining up to support them, this project faces an opposition that will go to the wall time and again.
kil tlaats'gaa Peter Lantin is president of the Haida Nation and Caitlyn Vernon is with the Sierra Club B.C.
Kai Nagata: Is Northern Gateway B.C.'s National Energy Program?
By Kai Nagata, National Post, June 19, 2015
It's a program that has engendered distrust and alienation between Ottawa and the West: a symbol of the government's bloody-minded determination to dictate energy policy from Central Canada.
No, not Pierre Elliott Trudeau's National Energy Program – which was pitched in the 1980s as a plan to secure the country's oil supply at Alberta's material expense. These days it's Northern Gateway that has become a symbol of imperial meddling: this time, at the environmental and financial expense of British Columbia, should anything go awry between the Rockies and the open sea.
Tethered to a series of unpopular moves on the part of the government, including cuts to marine safety, weakened environmental laws, and beefed-up surveillance against environmental protestors, Northern Gateway threatens not only relations between the province and Ottawa, it stands perilously close to creating the same kind of political wave that eventually swept the federal Liberals out of power.
Reform MPs like Stephen Harper fought against many of the same things British Columbians face today: a paternalistic federal government, deaf to regional concerns, hell-bent on promoting an energy agenda opposed by the people most affected. In this case, it's the coastal communities and First Nations whose way of life would be erased by a tanker spill.
One year after being greenlit by the federal cabinet and the National Energy Board (with conditions), the project nonetheless looks shakier than ever. Eight First Nations are challenging the approval in federal court starting in October. Any one of those cases could hold up development of the line for years.
The constitution requires the government consult First Nations groups on projects like Northern Gateway. When infrastructure is set to cross unceded territory – lands over which Indigenous communities assert collective ownership – the legal implications become all the more complicated.
Meanwhile Alberta's new premier, Rachel Notley, says she won't fight for it. As of Enbridge's last filing with the National Energy Board, not a single oil producer will sign a firm shipping contract.
But the project's not dead yet. And, ultimately, it's the federal government that has the power to approve or deny infrastructure projects like pipelines.
Enbridge has become a liability for Conservative candidates in every B.C. riding touching salt water.
The courts may, or may not, stop construction, but as with the NEP, it's political pressure on lawmakers that will prove decisive. There are early signs that a shift like this may already be afoot. Enbridge has become a liability for Conservative candidates in every B.C. riding touching salt water. Seat projections by ThreeHundredEight.com have the Conservatives losing seven of their 21 B.C. incumbents, while being shut out of six new ridings created by redistribution.
Party whip John Duncan is ten points behind the NDP in his northern Vancouver Island constituency, according to a telephone poll of 300 local voters conducted by Insights West for Dogwood Initiative. When respondents were asked who they voted for in 2011, the numbers lined up with actual results. But as many as three in five former Tories in coastal ridings now say they plan to vote for other parties.
At the same time, a majority of 2011 Conservative supporters report disagreement with the federal government's approach on oil tankers. Knock on doors anywhere from Comox to Deep Cove and the pattern becomes clear.
The desire for representation on this issue in Ottawa has British Columbians looking to opposition politicians, all of whom have promised to cancel Northern Gateway if they form government. But citizens are also counting on First Nations to defend local interests.
This week a fundraising drive has people across the province organizing events to help cover court costs for seven of the First Nations challenging the project approval. Called "Pull Together," the campaign has raised more than $450,000 so far.
This alignment between First Nations and British Columbians is coalescing into a regional political movement with the potential to become as powerful as Reform twenty years ago in Alberta. Sooner or later, Enbridge will be defeated in B.C. The only question is whether the current government goes down with it.
Kai Nagata is Energy & Democracy Director at Dogwood Initiative, British Columbia's largest nonpartisan citizen group
Northern communities will not allow Northern Gateway to be built
Friends of Wild Salmon, June 17, 2015
FOR IMMEDIATE RELEASE
June 17, 2015


Northern communities will not allow Northern Gateway to be built

SMITHERS, BC – One year after federal approval, opposition to the Enbridge Northern Gateway pipeline and tanker project is stronger than ever.

Ever since Northern Gateway was first proposed, First Nations and northern communities have stood together to protect their lands and waters - on the streets, in community halls, in the JRP hearing room, and now in the courts. Our wall of opposition is unbroken.

"It is not up to Enbridge or the federal government to decide, it is up to the people who live here and they have unequivocally said 'No'", asserted Gerald Amos, Chair of the Friends of Wild Salmon coalition. "Coastal First Nations have a tanker ban through their waters and the Save the Fraser Declaration bans tar sands oil over land."

"The Skeena watershed has a history of defending our wild salmon. We stopped fish farms on the North Coast, coalbed methane drilling in the Sacred Headwaters, and we will stop Enbridge. From Haida Gwaii to Terrace to Fort St. James, communities have said no and will continue to say no until this project is dead for good", said Amos.

"The Skeena River runs right through Terrace and every year the salmon runs provide us with food and contribute to our local economy. There are no assurances that Enbridge or the federal government can make that will change our minds – this project is too risky and we will not allow it to be built", affirmed Anne Hill of Northwest Watch in Terrace, BC.

"When Enbridge first proposed its pipeline in 2009 our community knew it was too risky. Following the leadership of the Wet'suwet'en, we came together as a united voice with the rest of the watershed to say 'no' - not now and not ever', stated Dawn Remington of Friends of Morice Bulkley in Smithers.

"Last year in Kitimat, local residents came together in a municipal plebiscite and decisively voted "no" to Northern Gateway. This is not a community that is opposed to development but Northern Gateway is simply not worth the risk", declared Patricia Lange of Douglas Channel Watch in Kitimat. "I've seen the narrow Douglas Channel in a storm and it is no place for super tankers."

"The oil industry is desperate to break the unity of North Coast people against oil tankers, but we have a history of defending our great salmon wealth", declared Luanne Roth of the T. Buck Environmental Foundation in Prince Rupert. "Our future does not include oil spills, it includes millions of wild salmon and the local jobs and healthy communities which come with them."

"Fort St. James is standing in solidarity with local First Nations, the Nak'azdli and Nadleh Whut'en, as they take Enbridge to court to protect their lands. Since Enbridge first proposed their pipeline and tanker project, we have come together as a community with the shared purpose of ensuring Enbridge is not a part of our future", said Brenda Gouglas of the Fort St. James Sustainability Group.

There are 13 groups with court cases against Northern Gateway including First Nations, conservation organizations and Unifor. Communities across the north and across the province are coming together in a "Week to End Enbridge" from June 13 - 21, organizing fundraisers to support First Nation legal fees.
Aboriginal Title & Rights with LOUISE MANDELL
, June 03, 2015
Are you interested in First Nations unity and Aboriginal sovereignty? Do you want to learn more about upholding Aboriginal authority in the face of large-scale development, such as proposed LNG pipelines and plants?

Join us for an evening discussion with renowned Aboriginal title and rights lawyer, Louise Mandell. Ms Mandell will speak on the legal and political implications of the Delgamuukw and Tsilhqot'in decisions. She will discuss how First Nations can collaborate to exert their inherent and Aboriginal authority.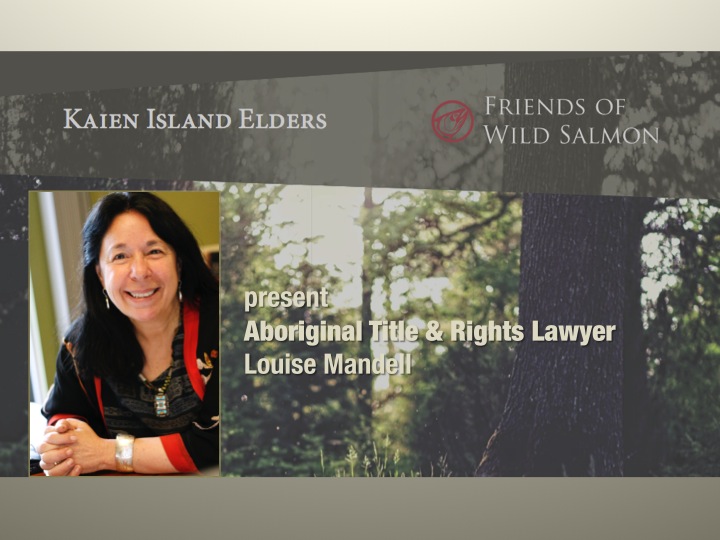 Date: Thursday, June 11th
Time: 7pm
Place: Nisga'a Hall, Prince Rupert
Everyone welcome
Sponsored by the Kaien Island Elders and Friends of Wild Salmon
NDP victory in Alberta may spoil Northern Gateway once and for all
By Mychaylo Prystupa, National Observer, May 06, 2015
The historic NDP majority government victory in Alberta Tuesday night has cost Enbridge an important ally in its beleaguered push to build the controversial Northern Gateway pipeline: an Alberta Premier.
New Democrat Premier-elect Rachel Notley has suggested she believes the $8-billion pipeline, from Bruderheim, Alberta to Kitimat, B.C. is a lost cause.
"Gateway is not the right decision. I think that there's too much environmental sensitivity there and I think there's a genuine concern by the indigenous communities," Notley told the Calgary Herald on April 24.
"Quite frankly, anyone who knows how these things unfold [knows] nothing is happening there for decades." she also told Global News.
Outgoing Progressive Conservative Premier Jim Prentice, who resigned his leadership post in his brief concession speech, was previously on the payroll of Enbridge as a consultant. Prentice blamed his party's losses on the rapid oil-price dip that cratered the Alberta economy.
Before his jump into provincial politics, he worked as the company's emissary to Aboriginal communities to try and revive failed pipeline negotiations.
With Prentice's defeat and Notley's rise, Coastal First Nations leader Art Sterritt says it's time for Enbridge to shelve this project. He represents the B.C. tidal bands who are opposed to the pipeline terminal and the 200-plus oil tankers that the pipeline would bring.
"It's time that Northern Gateway cut their losses and put this to bed. It will allow everyone to move on," he said. "We're spending lots and lots of dollars to oppose this. We have court cases going on. We'd really rather get on with building a true diverse economy in this province."
A spokesperson for Enbridge said Wednesday the project is far from over.
"We remain committed to this conditionally approved project and look forward to sitting down with the new premier to discuss her concerns," said Enbridge's Graham White in Calgary.
At a recent NDP rally, Notley suggested that what Alberta really needs is more refinery jobs, and less raw bitumen export pipelines such as Northern Gateway and Keystone XL.
"We need a government that is focused on encouraging job creation and resource processing here in Alberta, instead of Texas," the NDP leader said.
TransCanada said it looked forward to working with Premier-elect Notley, her cabinet and the rest of the Alberta NDP government:
"The value of the energy industry to Canadians is unquestionable," wrote company spokesman Mark Cooper from Calgary.
"Market access for Alberta's crude oil remains a top priority and we remain committed to developing projects such as Keystone XL and the Energy East pipeline to supply U.S. and Canadian refineries. Pipelines remain the safest way of transporting large quantities of oil long distances," he added.
The Canadian Association of Petroleum Producers also said: "Albertans have spoken and we respect their choice."
"CAPP works with governments of all political stripes across Canada and look forward to sitting down with Premier Notley in the near future," said spokesperson Chelsie Klassen.
Enbridge Inc.'s (TSX:ENB) Northern Gateway pipeline has faced years of stiff opposition. First Nations along the pipeline's virgin wilderness corridor in Northern B.C. in particular stand against it. Following a National Energy Board approval of the project with 209 conditions, the Harper govenrment also gave it the green light.
Since then, it's been hit with some 17 Aboriginal law suits, says the leader of the Union of B.C. Indian Chiefs.
"Enbridge was literally on life support anyway with respect to the enormous groundswell of opposition to the project by a majority of British Columbians," said Grand Chief Stewart Phillip on Wednesday.
"Now given the pronouncements of the Premier-elect Notley, Enbridge is dead, dead, dead," he added.
A plebiscite in Kitimat in April of last year also turned down the project at the pipeline's terminus community.
The New Democrats, under leader Rachel Notley, swept all 19 constituencies in Edmonton on Tuesday and made significant inroads in previously barren NDP territory in Calgary, Lethbridge and rural Alberta, Canadian Press reported.
"Friends, I believe that change has finally come to Alberta," Notley, told cheering supporters who chanted "Rachel! Rachel! Rachel!"
http://www.nationalobserver.com/2015/05/06/news/ndp-victory-alberta-may-spoil-northern-gateway-once-and-all">Download related file in PDF format
Exposing an invisible salmon migration
By Alicia Bridges, Smithers Interior News, May 05, 2015
An "invisible migration" taking place under the surface of northern rivers will be revealed with a series of events starting on May 11.
Every spring about 300 million juvenile salmon make their way from lakes, rivers and streams to the Skeena River estuary.
The Skeena Watershed Conservation Coalition is highlighting the migration of the tiny fish, known as smolts, with three events at locations near Smithers and Hazelton.
SWCC executive director said the series of events had been dubbed the Invisible Migration because the fish were hidden under the opaque surface of muddy spring floodwaters.
"We see these muddy rivers flowing past our communities and it's easy to forget that just below the surface the waters are teaming with giant plumes of baby salmon," said McPhail.
The events are an extension of celebrations held annually to mark the return of the adult salmon from the coast.
McPhail said it was important to recognize the journey of the young salmon back to the saltwater.
"Our communities always celebrate the return of the adult salmon each fall, because they are such an important food source," she said.
"But the out-migration of the smolts heading to the ocean is just as amazing and equally important.
"This year, we decided to celebrate their journey, too."
The first event will take place at the Babine River Fish Fence, where the Lake Babine Nation's fisheries program conducts a catch-and-tag program of smolts as they leave the lake.
There will be hourly boat tours starting at 10 a.m., a ceremony and a free wild salmon barbecue starting at noon.
Invisible Migration events will also be held in Hazelton on May 20 and Prince Rupert on May 23.
The latter will mark their arrival at the Skeena estuary, where Petronas hopes to build its proposed Pacific Northwest LNG terminal on Lelu Island.
The facility would be used to process and export natural gas transported from Hudson's Hope by TransCanada's proposed Prince Rupert Gas Transmission Project pipeline.
McPhail said there were concerns the Petronas plant would damage eelgrass beds that provide rearing habitat for wild salmon.
"The estuary is a critical component of the Skeena system," said McPhail.
"The smolts arrive at a sensitive time of their lifecycle.
"The estuary gives them a refuge from predators and a chance to get used to the saltwater environment before they head out to the open Pacific."
According to Pacific NorthWest LNG's website, the proposed facility would be located adjacent to Flora Bank, and includes a proposed suspension bridge and trestle to connect Lelu Island with the marine terminal.
It also says the facility has been designed to avoid sensitive marine environments, such as the eelgrass beds on Flora Bank.
For more information about the Invisible Migration events visit www.skeenawatershed.com or phone 250-842-2494.
Pacific Northwest LNG Sees Little Support for Their Billion Dollar Deal
By Devon Johnson, CFTK News, May 05, 2015
The debate around Pacific Northwest's LNG project on Lelu Island rages on. Last week the Lax Kw'alaams First Nation were offered one billion dollars if the band consents to the Petronas proposed project. Meetings are being held this week in Prince Rupert, Vancouver and Lax Kw'alaams to vote on whether to go through with the deal.
T.Buck Suzuki Spokesperson Luanne Roth says,
"It's like offering money to hurt your kid or something, you don't make a deal to hurt the salmon."
Local residents are turning to social media to make sure their concerns are heard says Roth.
"The companies have so much money for advertising and we're getting one side all the time in the radio and the ads and so I think it's important people hear about both sides."
The environmental impact to the Flora Banks region is one of the biggest issues with this project says local biologist Dr. Barb Faggetter
"We should just basically be saying this is a no go zone because we don't have enough science to guarantee that we won't be impacting Flora Banks. Should they ever have a spill or an accident there, there will be probably unmitigatable damage to flora banks."
The Lax Kw'alaams band has six days to make a vote on the billion dollar deal. According to Roth, at the Prince Rupert meeting last night zero hands were raised in support of the project.
Pacific Northwest LNG Spokesperson says this,
"It's incumbent upon projects to consult with First Nations and coopoeratively assess impact and propose compensations so if you know you're building a project like ours."
However Roth argues,
"They just chose the wrong site. There's no way to do it carefully. There's no way. It's just too difficult and even if they're trying, they had plenty of chance to find another site and they wouldn't look at an alternative."
Roth goes on to say the company shouldn't just value salmon as money...it's more than that. Another meeting is set to be held tonight at Chances by the proponent.
Internal Government Emails Reveal Defects in Canada's Consultation on Enbridge Northern Gateway Pipe
Gitxaala First Nation, April 23, 2015
VANCOUVER, BRITISH COLUMBIA--(Marketwired - April 23, 2015) - Environment Canada had serious concerns with the Government of Canada's proposed consultation approach for the Northern Gateway Pipeline Project, according to an internal government email obtained through the Access to Information Act.

An access to information request, filed almost four years ago by the Haisla Nation, shows Environment Canada highlighted a number of concerns with the project in an email dated September, 1, 2009. Some of those concerns included:
"First Nations were not involved in the design of the consultation process"
The process provides "limited or no opportunity" for government departments to engage with Aboriginal groups until after the Joint Review Panel process is completed
There is a "lack of clarity" about First Nations' rights and title considerations.

The list of concerns about the consultation process concluded: "It is not clear that it would meet the honour of the Crown duty," according to the email.

Haisla Nation Chief Councillor Ellis Ross said the release of this information, nearly four years after the access to information requested was filed, is "incredibly late, coming well after the government's decision to approve the project. Still, it confirms the concerns we've had all along with Canada's approach to consultation."

The Northern Gateway pipeline project proposes the construction of 1,178 kilometres of twin diluted bitumen and condensate pipelines and a marine terminal near Kitimat BC, in Haisla Nation Territory. The project would introduce regular tanker shipments of crude oil from BC's north coast, through the territories of several First Nations. The Haisla Nation, along with Nak'azdli and Gitxaala Nations and five other First Nations along the proposed pipeline and tanker routes, is challenging the Government of Canada's decision to approve the project through judicial reviews filed in the Federal Court of Appeal, on the basis of inadequate consultation.

Chief Fred Sam of Nak'azdli said the information obtained in the email isn't surprising, yet remains "disappointing."

"For years Nak'azdli and the Yinka Dene Alliance have said to Canada that its approach to consultation for the Enbridge proposal is seriously flawed," said Chief Sam. "Now we can see that Canada's own environment ministry agreed with us."

A Transport Canada email dated August 31, 2009 also identified its concern that the consultation approach was not flexible enough to respond to changing circumstances or incoming information.
The email states that "the consultation plan as written does not appear to be flexible enough to account for changing circumstances and incoming information."

Both emails were sent to the Canadian Environmental Assessment Agency in response to an email seeking comments on the approach to Crown consultation. Despite these concerns being raised, Canada "charged ahead" with its approach to consultation, said Chief Sam. "Now, many First Nations have been forced to go to court to challenge Canada's Enbridge decision."

Chief Clarence Innis of Gitxaala Nation said the emails show Canada has known since at least 2009 that its approach to consultation is misguided.

"We are shocked that, despite this, Canada pressed ahead with this dishonourable treatment of our Nation and other First Nations," said Chief Innis. "This confirms the justice of our principled opposition to the shipping of bitumen through our territory and British Columbia's Northwest Coast."
Redacted diary reveals oil's hidden route to Harper
By Mychaylo Prystupa, National Observer, April 22, 2015
Redacted entries in Mike Duffy's diary suggest he was in regular undisclosed contact with pipeline giant Enbridge during the height of the federal government's scorching attacks on environmental activists and charities in 2012.
The suspended senator's journal shows a flurry of conversations and emails with or about top-level Enbridge executives, then PMO chief of staff Nigel Wright and the Prime Minister between January and June of 2012, just as the National Energy Board started its hearings on the Enbridge Northern Gateway pipeline proposal.
During this period, the federal government launched three parliamentary hearings, a senate inquiry and a major Canada Revenue Agency audit initiative focused on the activities of environmental charities, many of which opposed Northern Gateway.
None of the apparent contacts with Duffy were reported by Enbridge to the federal lobbyist registry, and Duffy's office redacted several key mentions of them.
The redacted entries include two exchanges between Prime Minister Harper and Duffy about Enbridge pipeline issues.
Duffy and his assistant, Mary McQuaid, made the redactions a year later before couriering the calendar pages to the PMO for a Senate probe into his expenses, said RCMP investigator Cpl. Greg Horton.
"Mary and I copied and redacted my four years of diaries," Duffy wrote in an 2013 email obtained by police.
But the suspended Senator's entries are still legible. The black marks on his journal suggest a poor attempt to cover up, says Canada's lobbying watchdog.
"It's the worst case of redacting that I've seen in a long time," reacted René Leblanc, Deputy Commissioner of Lobbying on Monday, when shown the diary.
From late 2009 to the end of 2011, there are no redactions in the diary. Duffy redacted entries during the period from January through June, 2012, and the most frequent redactions concern Enbridge or environmental charities — over a dozen in all.
Enbridge did not disclose to lobbying registry
None of Enbridge's calendared calls with Duffy were declared by the company to the federal lobbyist registry. The Lobbying Act requires firms to make detailed reporting of its contacts with public office holders, including senators.
Duffy's diary details his phone calls and emails with Steve Wuori, then-president of Enbridge Liquids Pipelines (five mentions), Enbridge board of director Jim Blanchard (two mentions), then-Prime Minister chief of staff Nigel Wright, public opinion pollster Dave Crapper (six mentions), and his long-time associate Bill Rodgers (nine mentions).
Rodgers is Duffy's former CTV colleague turned cabinet communications director. According to Le Devoir, Rodgers lost his government post in May 2011, and Duffy put him to work in early 2012 using an alleged taxpayer-paid scheme now under scrutiny at Duffy's bribery and breach of trust trial.
Before hiring him, Duffy's wrote of Rodgers' "future career plan (Pipelines)" in late 2011. And Le Devoir reports that Duffy used another long-time friend — Gerald Donohue to flow taxpayer dollars to Rodgers for raising "energy issues" in the public eye.
Crucially, Duffy's telephone conversations with Enbridge executives occurred before two national Conservative Party caucus meetings in February and April 2012, where exchanges about Enbridge were made with Prime Minister Harper about the company's pipelines. His entries read:
Jan.6, 2012, 6 p.m. "Telcon Steve Wuori, Dave Crapper, Vivian Krause + Bill Rodgers" (with strike outs)
Jan.11, 2012, 4:30 p.m. "Telcon Bill Rodgers re: Enbridge" (with strike outs)
Jan.11, 2012 - 7:35 p.m. "More Bill call back from Enbridge" (with strike outs)
Feb. 9, 2012, 5:00p.m. "Telcon Bill Rodgers re: Enbridge" (with strike outs)
Feb. 9. 2012, 6:30pm "Dinner @ Eastside Mario's emails Nigel Wright on CTV, Bob Fife etc + Telcons Steve Wuori & Bill Rodgers re pipeline" (with strike outs)
Mike Duffy, Duffy diaries, Duffy trial, Enbridge, Harper, Senate Scandal, Northern Gateway, Enbridge Northern GatewayRedacted entries regarding Enbridge from Senator Mike Duffy's diary
Then, two days after the Feb.15 Conservative caucus meeting, the diary suggests Stephen Harper told Duffy:
"PM asks "Send me a note on Enbridge Line #9 problems" (with strike outs).
Duffy then worked the phone and emails to Enbridge and the PMO:
Feb.20, 2012 - "Send note to Jim Blanchard & Steve Wuori + Nigel Wright re: Enbridge" (not struck out)
Feb.21, 2012 - "Telcon - Jim Blanchard re: Enbridge" (not struck out, marker bleedthrough from previous page)
Apr. 2, 2012 - "Telcons - Steve Wuori, Bill Rodgers & Dave Crapper" (not struck out)
Duffy diaries, Enbridge, Stephen Harper, Mike Duffy, Senator DuffyEntries regarding Enbridge from Mike Duffy's diary
After his communications wtih Enbridge, Duffy speaks to the Prime Minister and the entire Conservative caucus about its multi-billion-dollar pipelines.
Apr. 4, 2012 - "National caucus - MD speaks to PM re: Enbridge Gateway pipelines" (strike outs)"
Apr. 4, 2012 - 6 p.m. "Telcons Steve Wuori, Bill Rodgers & Dave Crapper"
Later that same evening, Duffy's journal says he also calls Enbridge's Steve Wuori "re: Bill Rodgers & Dave Crapper."
All of Duffy's calls with Enbridge followed a Prime Ministerial directive in late 2011 to find "creative solutions" to get Alberta oil to tidal waters.
Harper had just received an urgent phone call with bad news from the White House: U.S. President Barack Obama said he would delay his decision on Canada's Keystone XL pipeline into the U.S. in late 2011.
Enbridge's Northern Gateway was then seen to be the "most imminent option" by cabinet to pump oil to the West coast according to a source who attended a subsequent Harper strategy meeting, the National Post reported.
The Office of the Commissioner of Lobbying of Canada confirmed Monday that Enbridge did not register any of these early 2012 communications with Senator Mike Duffy. The office is now looking into the matter.
Reached for comment in Ottawa, veteran Liberal Senator and and former Vancouver mayor Larry Campbell was critical of Enbridge's failure to report its contact with Duffy.
"It would seem to me... that this is a reportable lobbying event," he said.
As for the reasons behind Duffy's redactions, Campbell was reluctant to speculate.
However, he ventured: "It confounds me how intelligent people can somehow alter an electronic diary or even a written (one). It's like getting a redacted document under Freedom of Information. What the hell did they black out, and why?… It could be caucus confidentiality, it could be confidentiality between the PM and Duffy.
"Duffy is going to have to explain it, that's all there is to it."
Enbridge has registered 215 monthly lobbying reports — but none of them mention Senator Duffy. Another oil sands firm, Laricina Energy, did disclose its lobbying communications with Senator Duffy in 2012.
Enbridge's manager of communications Ivan Giesbrecht was reached Monday, and was then emailed a list of questions. The company did not respond before a Tuesday noon deadline.
The Prime Minister's office was also contacted Tuesday morning for comment, but did not respond.
Duffy's diary also shows he was in regular touch with former Sun News Network host Ezra Levant. Levant is expected to testify imminently in Duffy's bribery and breach of trust trial.
Duffy's numerous social contacts with cabinet ministers and senior bureaucrats, and cocktail parties at 24 Sussex, suggest he was one of the ultimate insiders in the Conservative Party.
He was appointed to the Senate by Prime Minister Harper in 2009, following a long career in broadcasting on federal politics.
Opinion: English Bay confirms Canada's not ready for a major oil spill
By Harry Wruck, The Vancouver Sun, April 21, 2015
In the wake of the toxic fuel spill in English Bay two weeks ago, officials at all levels of government were playing the blame game and pointing fingers over a not-so-world-class spill response plan. But beneath all that posturing and righteous indignation remains one simple fact: Canada — from its spill response teams to its legislative framework — is not ready to handle a major spill.
I spent decades as a senior general counsel at the Department of Justice, where I prosecuted both criminal and civil oil spill cases. My work on the Nestucca oil spill — which spilled 874,000 litres of oil off the coast of Oregon, polluted the beaches of Vancouver Island and killed 35,000 migratory birds — made me intimately aware of how even a moderate-sized spill can impact people and the environment for years after the fact.
Compared to the Exxon Valdez spill (more than 40 million litres spilled) or even the Nestucca spill, the English Bay spill was small. Still, Canada bungled its response, proving that its emergency protocols are ill-equipped to handle a spill of any size. This is not a big surprise: While much has been made of recent cuts to the coast guard, we cannot overlook the fact that Canada made the foolhardy decision in the early 1990s to sell off its oil spill cleanup equipment (at the time thought to be the best in the world) and leave emergency cleanup to the private sector.
It is easy to take issue with the coast guard's sluggish, wholly inadequate response to the spill, but I'm particularly troubled by its claim that it was able to recover 80 per cent of what was spilled. Such a claim is, quite frankly, ludicrous.
In most instances, recovering 10 or 15 per cent of any spill is considered a success. This is because it is impossible to determine with any precision how much oil is released during a spill: It can dissipate into the water, sink to the ocean floor, wash up on beaches, or escape into the air. Even the coast guard admits it is likely more than the 2,700 litres of fuel first reported actually spilled into English Bay. And if you don't know how much oil has been released, it is impossible to clean it all up.
The coast guard also appeared to be misinformed when it stated that it would recoup the full costs of cleaning up the spill — what it fails to appreciate is that this is much easier said than done. In dealing with recouping costs and seeking environmental damages, a number of complex legal questions arise: Were the costs incurred reasonable and necessary? How do you quantify impact on wildlife or ecosystems with no market value? What happens when an endangered species is destroyed?
Unfortunately, these are all questions Canadian law is not equipped to effectively and efficiently address.
Canadian politicians like to claim our environmental laws and regulations are world-class, but this is simply not true. Whether we are looking at improving drinking water standards, regulating greenhouse gas emissions or prosecuting polluters, the laws and regulations that are supposed to protect Canadians and the environment are increasingly falling behind those of other industrialized nations.
I now work at Ecojustice, Canada's only national environmental law charity, where we have been involved in review processes for both Enbridge's Northern Gateway and Kinder Morgan's proposed Trans Mountain pipeline expansion. The latter would see a seven-fold increase in tanker traffic through Burrard Inlet. Over and over we have challenged the companies' safety records and Canada's emergency response plans. Again and again, they tell us that Canadians have nothing to worry about.
After what happened in English Bay, how can we trust them?
The English Bay spill was relatively small, it was a big wake-up call: We are not prepared to deal with a major oil spill. And until the tanker-sized holes in Canada's spill response plan and legislative framework are addressed, we cannot allow even a limited expansion of tanker traffic off our coasts.
Harry Wruck is a lawyer at Ecojustice and served as a senior general counsel with the Department of Justice.
CSIS helped government prepare for Northern Gateway protests
By Jim Bronskill, CTV News, March 17, 2015
Canada's spy agency helped senior federal officials figure out how to deal with protests expected last summer in response to resource and energy development issues -- including a pivotal decision on the Northern Gateway pipeline.

The Canadian Security Intelligence Service prepared advice and briefing material for two June meetings of the deputy ministers' committee on resources and energy, documents obtained under the Access to Information Act show.

The issue was driven by violence during demonstrations against natural-gas fracking in New Brunswick the previous summer and the government's interest in "assuming a proactive approach" in 2014, says a newly declassified memo from Tom Venner, CSIS assistant director for policy and strategic partnerships.

Release of the material comes amid widening concern among environmentalists and civil libertarians about the spy agency's role in gathering information on opponents of natural resource projects. Those worries have been heightened by proposed anti-terrorism legislation that would allow CSIS to go a step further and actively disrupt suspected extremist plots.

Traditional aboriginal and treaty rights issues, including land use, persist across Canada, Venner said in the memo to CSIS director Michel Coulombe in advance of a June 9 meeting of deputy ministers.
"Discontent related to natural resource development across Canada is largely an extension of traditional concerns," he wrote. "In British Columbia, this is primarily related to pipeline projects (such as Northern Gateway)."

On June 17, the federal government conditionally approved Enbridge's proposed $8-billion Northern Gateway pipeline, which would see Alberta crude flow westward to Kitimat, B.C.

Prior to the federal decision, Venner drafted a second memo for a follow-up meeting of the deputy ministers on June 19, in which he laid out CSIS assessments of three scenarios: approval, approval with aboriginal consultation, or rejection. Much of the content is blanked out.

Other censored sections indicate that while CSIS believes most Northern Gateway opposition falls into the category of legitimate protest and dissent, it concludes some does not.

Public Safety Canada may lead deputy ministers in a guided discussion "that will consider possible federal responses to protest and demonstration incidents," Venner added.

Packages for both meetings included a CSIS synopsis of violence that flared near the Elsipogtog First Nation in New Brunswick in October 2013 when the RCMP enforced a provincial court injunction against an encampment to protest fracking -- an underground rock-fracturing process to make gas and oil flow.

The spy agency's summary -- portions of which remain secret -- notes that during the raid and subsequent arrests, Molotov cocktails were thrown at Mounties, shots were fired from nearby woods and six RCMP cars were set afire.

CSIS also gave deputy ministers a federal risk forecast for the 2014 "spring / summer protest and demonstration season" compiled by the Government Operations Centre, which tracks and analyzes such activity.
CSIS spokeswoman Tahera Mufti did not respond to requests for comment on the newly disclosed documents.

The Elsipogtog conflict was a policing matter, not a threat to national security, said Keith Stewart, an energy campaigner for Greenpeace Canada.

"That was a very localized conflict," he said. "And it was one that we've seen happen over and over again because we haven't dealt with land claims."

With that in mind, Stewart was surprised by the degree of spy service involvement in the Northern Gateway discussions. "I find it odd to see CSIS in the middle of this."

The records make it clear the intelligence service is putting "extensive work" into monitoring protest activity in the extractive sector across Canada, said human rights lawyer Paul Champ.
"The big question I have is, why are they producing these intelligence reports on protest activity they acknowledge is legitimate and outside their mandate?"