LNG and Wild Salmon in Sakhalin, Russia
, February 11, 2016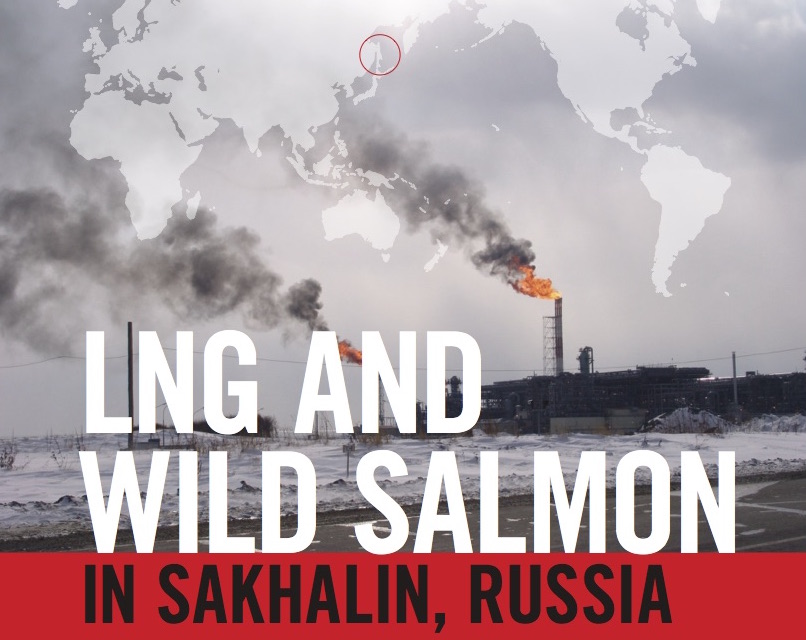 Russia's Sakhalin Island once boasted the world's third-largest pink salmon run. But since Shell built an LNG plant there a decade ago, salmon runs have collapsed.
Join three visiting Russian scientists and a noted conservationist who have extensively studied LNG's impacts. Their compelling presentation is highly relevant to Petronas' Pacific Northwest LNG project proposed for Lelu Island near the mouth of the Skeena River.
NORTHERN PUBLIC PRESENTATIONS:
Feb 12 Prince Rupert, Lester Centre 7 – 9 pm
Feb 13 Hazelton, Ksan from 12 noon to 3:00 pm
Feb 15 Smithers, Old Church 7 – 9 pm
Feb 16 Terrace, Elks Hall 7 –9 pm
Viktor Afanasev is a geomorphologist and is head of the Department of State Environment Expert Committee for Protection of Environment and Natural Resources in Sakhalin.
Alexander Vedenev is the Head of the Ocean Noise Laboratory, P. P. Shirshov Institute of Oceanology, Russian Academy of Sciences (SIO RAS), Moscow.
Aleksandr Shubin is a salmon ecologist living in Yuzhno-Sakhalinsk, Russia. He is also a researcher for the Sakhalin Research Institute of Fisheries and Oceanography Department.
Dmitry Lisitsyn is the Director of Sakhalin Environment Watch and lives in Yuzhno-Sakhalinsk, Sakhalin Island.
Federal draft review concludes salmon not adversely affected by leading LNG project
By Gordon Hoekstra, Vancouver Sun, February 10, 2016
A draft report issued Wednesday following a federal government review concludes the proposed $12-billion Pacific NorthWest LNG project in northwestern B.C. would cause adverse effects from greenhouse gases and harm harbour porpoises, but not adversely affect salmon.
It will be considered a victory for the consortium led by Malaysian state-controlled Petronas, which has faced opposition to the project near Prince Rupert from some First Nations and environmentalists over the liquefied natural gas terminal's possible effect on juvenile salmon.
The draft report is open for public comment until March 11, after which the Canadian Environmental Assessment Agency will produce a final report.
Prime Minister Justin Trudeau's federal Liberal government has the final say on the project.
Pacific NorthWest LNG president and CEO Michael Culbert called it "extremely good news" that a draft report validates there will not be an adverse effect to fish or fish habitat from the project.
He said, however, that not until the federal cabinet has made a decision, will the shareholders of the consortium be in a position to make a final investment decision.
"We'll have to go through and look at the impact of the conditions that have been recommended in this draft report — and determine not only the economic impact of those conditions but also potential impacts on timelines," Culbert said in an interview.
The consortium — which includes investors from China, India, Japan and Brunei — had given conditional approval to the project eight months ago, pending federal go-ahead.
However, since then, the Conservative government was toppled by Trudeau's Liberals, who have vowed more say for First Nations on natural resource projects. Energy companies, including Petronas, are also contending with continued low oil prices and have announced significant capital spending cuts.
B.C. Natural Gas Minister Rich Coleman also welcomed the draft report's conclusions on salmon, but admitted B.C. will need to provide Ottawa an explanation on how it will deal with the report's conclusion the project will increase the province's greenhouse gas output by 8.5 per cent.
He said the province is urging the federal government to give it credit for items such as reduced flaring and continues to argue that B.C. should get environmental credit for selling LNG to countries like China, reducing the need for new coal-fired power plants.
That argument remains contentious among environmental groups, climate scientists and other governments.
With Shell recently announcing it will put off its decision on a proposed $40-billion LNG project in Kitimat until the end of 2016, the stakes are high for Christy Clark's B.C. Liberal government, which has pegged its economic growth plan on building a nascent LNG export industry to Asia.
Woodfibre LNG's much smaller LNG project near Squamish also remains on the books.
Clark recently lambasted what she called "the forces of no" for opposing resource projects, including Pacific NorthWest LNG. She made the statement after a coalition of more than 300 hereditary and elected chiefs, scientists, politicians, fisherman and others signed a declaration in Prince Rupert in January to protect Lelu Island, the proposed location of the Pacific NorthWest LNG terminal.
The coalition is opposed to Lelu Island over concerns the project will harm juvenile salmon that use eelgrass beds on Flora Bank adjacent to the island.
The Skeena Watershed Conservation Coalition said it was disappointed in the draft report.
"It is an incredibly superficial report that omits critical peer-reviewed science that is key to properly assessing the true environmental impacts of the LNG project," said Greg Horne, energy coordinator for the coalition. "Given the scientifically established importance of Flora Bank to Skeena salmon, to say that this project will not have significant adverse impacts on salmon is completely incorrect and shows us once again that the (Canadian Environmental Assessment Agency) process is broken," said Horne.
The agency's 257-page draft report notes that a key area of public concern were effects on fish.
The draft report says one of 11 main environmental effects of the project is on marine fish and fish habitat from changes to water and sediment quality, loss of habitat, and physical injury or mortality.
However, the federal environmental agency noted that key mitigation measures include offsetting loss of fish habitat with new habitat and building towers for a bridge at the edge of Flora Bank to minimize sediment erosion.
The report said mitigation measures will serve as accommodation for potential effects on First Nations.
The federal agency also laid out more than 150 conditions that could mitigate the effects of the project that ran the gamut from air quality, wetlands, migratory birds and human health.
The conditions called for significant consultation with First Nations.
http://www.vancouversun.com/technology/report+finds+proposed+pacific+northwest+project+would+harm+salmon/11710979/story.html?__lsa=67c3-e889">Download related file in PDF format
LNG project could avoid 'significant' environmental effects, agency rules
By Brent Jang, The Globe and Mail, February 10, 2016
Pacific NorthWest LNG's project in British Columbia would likely harm harbour porpoises and contribute to climate change, but the export terminal could be built and operated without causing major ecological damage, the Canadian Environmental Assessment Agency has ruled.
CEAA issued a 257-page draft environmental assessment report Wednesday into the proposal by Pacific NorthWest LNG, which wants to export liquefied natural gas from an $11.4-billion terminal planned for Lelu Island in the Port of Prince Rupert.
There will be large increases in greenhouse gas emissions from natural gas production, processing and pipelines, said CEAA, which also warns about the impact on harbour porpoises.
"With respect to all other valued components, the agency concludes that the project is not likely to cause significant adverse environmental effects taking into account the implementation of the key mitigation measures," according to CEAA.
The consortium led by Malaysia's state-owned Petronas faces a series of conditions outlined in a separate 20-page document. Those recommendations include monitoring salmon habitat in Flora Bank, a sandy area located next to Lelu Island. Another potential condition is the implementation of programs to reduce the adverse environmental effects.
"High densities of harbour porpoises are found in the shallow waters around Prince Rupert and throughout the southern portion of Chatham Sound," the draft assessment report said.
The federal regulator, which started its review into Pacific NorthWest LNG in April, 2013, said a new 30-day public comment period will wrap up March 11. Any conditions set by federal Environment Minister Catherine McKenna will become legally binding. She is expected to make her decision on or about March 22, barring any further delays in the process. Wednesday marked Day 324 on the 365-day regulatory clock.
The report took note of opposition from the Lax Kw'alaams First Nation. "Lax Kw'alaams Band is concerned that Flora Bank could be at risk of being lost altogether; the marine terminal infrastructure could affect the high energy processes that hold Flora Bank in place," CEAA said.
A proposed suspension bridge over Flora Bank has been designed to vastly minimize dredging. That span would connect with a pier to a deep-berth location for LNG carriers in Chatham Sound. Two supporting structures in the water should be circular in shape to reduce the environmental impact, federal scientists recommended last month.
In late January, Ottawa said energy projects under review must clear new hurdles, especially taking into account carbon emissions related to natural gas production and pipelines.
The Petronas-led group calculated its project "would increase greenhouse gas emissions for the Province of B.C. by 8.5 per cent and for Canada by 0.75 per cent. Globally, the project would increase greenhouse gas emissions by 0.015 per cent," CEAA said.
"Using several sources, Environment and Climate Change Canada estimated that upstream emissions associated with the project would range from 6.5 to 8.7 million tonnes" a year of equivalent carbon dioxide. Direct greenhouse gas emissions have been estimated to be 4.9 tonnes a year of equivalent carbon dioxide by Pacific NorthWest LNG, a reduction from 5.2 million "due to further engineering refinements," CEAA said.
The agency said it examined a wide range of other factors such as aboriginal fishing and hunting rights, noting that the mitigation measures will be considered by Ms. McKenna.
Spencer Sproule, Pacific NorthWest LNG's senior adviser of corporate affairs, said the consortium is studying the draft report and conditions.
"Pacific NorthWest LNG would like to thank the government of Canada, First Nations and community members for their constructive and rigorous approach with respect to the federal environmental assessment," Mr. Sproule said.
He said the projects co-owners are "committed to building and operating a world-class LNG facility in an environmentally sustainable manner that First Nations and residents in the region can be proud of."
Greg Horne, energy co-ordinator with Skeena Watershed Conservation Coalition, expressed disappointment and said the CEAA process is broken.
"It is an incredibly superficial report that omits critical peer-reviewed science that is key to properly assessing the true environmental impacts of the LNG project," he said in a statement. Mr. Horne said the draft report's findings playing down impacts on salmon are incorrect, "given the scientifically established importance of Flora Bank to Skeena salmon."
http://www.theglobeandmail.com/report-on-business/industry-news/energy-and-resources/lng-project-could-avoid-significant-environmental-effects-agency-rules/article28708975/">Download related file in PDF format
NDP MLAs sign anti-LNG declaration
By Les Leyne, Times Colonist, January 26, 2016
Premier Christy Clark on Monday took a much harder line against the NDP and others who "say no to everything."
It's a familiar line of attack for Clark against the opposition. But in the case she was discussing — pronounced antipathy to the siting of a proposed liquefied natural gas plan near Prince Rupert — it includes a number of First Nations hereditary chiefs. Her government has been trying to stay on good terms with First Nations on a host of issues, but when it comes to resource development, she looks ready to talk tougher now than in the past.
She was reacting to a declaration signed by some hereditary chiefs and hundreds of others — including three NDP MLAs — that would forbid development of Pacific NorthWest LNG's proposed plant south of Prince Rupert because it impinges on salmon habitat.
"I am most concerned about the opponents … signing on to say they don't want anything to happen up there," said Clark. "It's the world being divided into two. The people who will say no to everything, and people who want to find a way to get to yes, who recognize that's how you create jobs."
She got some support later from five elected Tsimshian Nation chiefs who said those who signed the declaration as hereditary chiefs had no mandate. They were "extremely disappointed" the NDP politicians signed on without consulting them, since they've been studying LNG for years.
The declaration arose from a meeting devoted to protecting the Skeena River's salmon runs. The plant's tidewater siting is a sticking point in the federal environmental-approval process now underway.
The Department of Fisheries and Oceans recently told that approval panel that "no significant effects" are expected from a trestle that runs over that habitat.
Clark said the federal scientists with DFO believe the impacts will be mitigable and the fish will be supported.
"When those scientists say the process can go ahead, I'm not sure what science the forces of no bring together up there, except that it's not really about the science, it's not really about the fish, it's just about trying to say no," she said. "It's about fear of change, it's about fear of the future."
The declaration is also a bit of a departure for the NDP, since it amounts to a definitive no on at least one LNG project. It's the most forthright pronouncement on the issue to date by anyone in the party. The NDP has been expressing lukewarm support for the potential new industry for the past several years. But it has voted against measures introduced to make it happen and been critical of how the government has handled the long negotiations over the projects.
The MLAs — Jennifer Rice (North Coast), Doug Donaldson (Stikine) and Robin Austin (Skeena) — represent much of the B.C. coast, including most of the major proposed LNG sites. They signed up, along with NDP MP Nathan Cullen. The unequivocal rejection of the project is on grounds that could easily apply to other sites, since lots of salmon streams are in play.
The declaration would forbid the plant because the site is "protected for all time, as a refuge for wild salmon and marine resources … to be held in trust for all future generations," says the declaration.
In addition to signing the declaration, the trio of MLAs said the proposed facility "poses an unacceptable risk to the Flora Bank habitat that is an irreplaceable link in the Skeena River salmon ecosystem."
Bruce Ralston, the NDP's critic on the LNG file, said people have been "mystified" for years about why the particular site was chosen, because of its sensitivity.
The Skeena is one of the great salmon rivers and there's a legitimate debate about what impact an LNG plant would have, he said.
Ralston said the NDP does support the creation of an LNG industry, but it's conditional on First Nations and environmental concerns that haven't been alleviated by PNW LNG.
The three MLAs' decision "doesn't detract from our overall support for the creation of an LNG industry."
There are about 20 projects in the works. "Some we support and some we don't," Ralston said.
First Nations look as fractured on LNG at this point as the B.C. Liberals and NDP are. But some company has to commit to actually building a plant before the various pronouncements amount to much.
http://www.timescolonist.com/opinion/columnists/les-leyne-ndp-mlas-sign-anti-lng-declaration-1.2158291">Download related file in PDF format
Salmon Summit wraps with declaration
By Shannon Lough, The Northern View, January 26, 2016
The proposed Pacific Northwest LNG terminal on Lelu Island continues to meet resistance from some First Nations and politicians — but not all.
Friends of Wild Salmon hosted the Salmon Nation Summit conference in Prince Rupert on Jan. 22 and 23 with the focus on how LNG development may threaten salmon in the Skeena River.
On the second day of the conference First Nations leaders, three MLAs, an MP and citizens signed the declaration for the "Permanent Protection of Lelu Island".
The Lelu Island Declaration states: "That Lelu Island, and Flora and Agnew Banks, are hereby protected for all time, as a refuge for wild salmon and marine resources, and are to be held in trust for all future generations."
The Skeena-Bulkley Valley MP Nathan Cullen and MLA Jennifer Rice both attended the conference and signed the declaration.
"This project isn't going to happen. This project can't happen," Cullen said in the press release.
Rice spoke at the conference and presented a letter affirming her commitment, along with two other Northern MLAs, Robin Austin, MLA for Skeena and Doug Donaldson, MLA for Stikine, to protect the Skeena wild salmon.
"There's no doubt that when a group of diverse citizens often with differing viewpoints can come together and empower each other as I witnessed this weekend, that they are unstoppable," Rice said.
Hereditary leaders from some of the the Nine Allied Tribes of the Tsimshian Nation, and hereditary leaders of the Lax Kw'alaams, Gitxsan, Wet'suwet'en, Lake Babine, and Haisla First Nations also signed the declaration, including Grand Chief Stewart Phillip of the Union of B.C. Indian Chiefs, according to the release.
However, Chief Cliff White, Gitxaala, Chief Harold Leighton, Metlakatla, Chief Don Roberts, Kitsumkalum, Chief Joe Bevans, Kitselas and Chief Arnold Clifton, Gitga'at, made clear on Monday that the declaration was made without their consultation or support.
"The signatories to the declaration did not include or represent any of the five Tsimshian elected chiefs nor was there any mandate from elected or hereditary chiefs to support the declaration.
The Tsimshian chiefs reject the declaration calling for permanent protection of their traditional territories. The chiefs view the declaration as a political action that is an attack on the rights and title interest of Tsimshian Nations," the chiefs said in a press release.
"The chiefs are extremely disappointed that the local member of parliament and provincial NDP MLAs would choose to sign and comment on a project without any prior consultation or involvement with Tsimshian communities."
The chief councillors also added that the summit did not present the full picture of the proposed project.
"The environmental teams of the Tsimshian Nations have been working collaboratively, through the Tsimshian Environmental Stewardship Authority (TESA), to rigorously review the science and have successfully pressed the proponent and CEAA for additional due diligence. In addition, TESA has commissioned two independent reviews to validate the science. TESA is in the process of concluding its work on the science and will be reporting out to its communities in the coming weeks," they said.
"Tsimshian Nations will continue on their path of making decisions based on the best environmental information and the best interests of the communities they represent."
The two-day conference had more than 300 people attend to listen to environmentalists and First Nations leaders speak about the politics and science behind possible LNG development.
The co-chair of Friends of Wild Salmon, Gerald Amos, said they planned to "tackle the notion of social licence, what should it mean and what role do communities have to projects like the Petronas one".
He called the consultation process a broken system and hopes that Friends of the Wild Salmon are able to stop the development on Lelu Island. "It's just the worst possible site," he said.
Ian Gill, the founding president of Ecotrust Canada, presented on the politics of LNG development and how the government is desperate to deliver hard economic development in the province.
"I think there's a frustration that our governments encourage foreign-owned companies, who have no responsibilities in Canada and no commitments to Canada's future, to come in and make these grand proposals," Gill said adding that it divides communities.
On Monday, Premier Christy Clark also pointed to the divisiveness saying those who signed the declaration were "the forces of no," adding there is an apparent division between those "who say no to everything and those that want to find a way to get to yes."
http://www.thenorthernview.com/news/366485721.html">Download related file in PDF format
Premier Clark battles B.C.'s 'forces of No,' on LNG, trade deal; says she's no quitter
By Dirk Meissner, The Canadian Press, January 26, 2016
Premier Christy Clark had sharp words Monday for what she calls the "forces of No" in British Columbia who mount resistance efforts to government initiatives purely out of a fear of change.
First Nations leaders quickly shot back at the premier, labelling her comments "paternalistic" and "mindless."
Clark made the statements during a news conference where she fielded questions about opposition to the Trans-Pacific Trade Partnership, environmental concerns over liquefied natural gas development and tax breaks for the mining industry.
She said negotiating trade pacts and resource developments involves tough, but potentially rewarding benefits and she would rather be known as an achiever than a quitter.
"There are people who just say no to everything, and heaven knows there are plenty of those in British Columbia," said Clark. "But just because it's hard doesn't mean you give up. It doesn't mean you should be a quitter."
She criticized a coalition of First Nations, environmentalists and Opposition New Democrats who signed a declaration demanding a protection zone near a proposed multibillion-dollar LNG project at Lelu Island near Prince Rupert.
"I'm not sure what science the forces of No bring together up there except that it's not really about the science," said Clark. "It's not really about the fish. It's just about trying to say No. It's about fear of change. It's about a fear of the future."
Pacific Northwest LNG, backed by Malaysian energy giant Petronas, has proposed to build an LNG export terminal at Lelu Island.
The proposed project is billed as the largest private-sector investment in B.C.'s history, valued at $36 billion and estimated to create 4,500 construction jobs.
But the Lelu Island and Flora Bank region at the mouth of the Skeena River, is considered vital to the ecosystem of B.C.'s second-largest salmon-bearing waterway.
A coalition signed a declaration to protect the area at the end of a weekend summit in Prince Rupert, attended by more than 300 hereditary and elected First Nations leaders, scientists, politicians, fishermen and others.
"Once again, people from the entire length and breadth of the Skeena River and its estuaries have come together to let both levels of government and the industry know that they've made a mistake in siting this particular project," said Gerald Amos, Friends of Wild Salmon spokesman.
Amos said the area surrounding Lelu Island is known for its eel grass beds that offer protection for salmon before they head to the ocean or return to the Skeena to spawn.
He said First Nations view Clark's comments about as insensitive to people who want to protect the Skeena salmon.
"She's on the wrong side of this equation," he said. "Labelling the forces of No is paternalistic. It's downright insulting."
Lax Kw'alaams hereditary Chief Yahaan said the project is a threat to a centuries-old salmon-fishing culture. He said Clark doesn't understand the ties his people have to the river and the salmon.
"Her mentality, the mindless phrases that come out of her mouth," said Yahaan. "Saying that we're the people of No. We're the indigenous people of this land. We live here. We know about the environment. She doesn't."
But Gitga'at First Nation Chief Arnold Clifton said declaring Lelu Island and Flora Bank off limits to industrial development may be premature.
Clifton and four other elected area chiefs representing the northwest's Tsimshian Nation said many First Nations area awaiting the results of two independent scientific reviews before deciding whether to support the LNG project.
He downplayed the comments of Yahaan and other hereditary chiefs, but pointed at area New Democrats who signed the declaration.
"They stepped in a little too quickly," said Clifton of nearby Hartley Bay. "They should have spoken to the chiefs first."
New Democrat members of the legislature Jennifer Rice, Robin Austin and Doug Donaldson and the North Coast's federal member of Parliament Nathan Cullen signed the declaration.
Provincial New Democrat LNG critic Bruce Ralston said his party opposes the Lelu Island project because it does not meet the party's conditions of approval, including First Nations consent.
He said the NDP remains committed to supporting the LNG industry, providing it meets the Opposition's four conditions.
http://www.theprovince.com/business/premier+clark+battles+forces+trade+deal+says+shes+quitter/11675663/story.html">Download related file in PDF format
Saying 'yes' to wild salmon and a clean energy future – and saying 'no' to Christy Clark
Friends of Wild Salmon, January 25, 2016
January 25, 2016

For Immediate Release

Northern First Nations and community leaders have categorically rejected Premier Christy Clark's paternalistic characterization of this weekend's Lelu Island Declaration as being the work of what she has labeled the "Forces of No."

"The Premier is right about one thing, and only one thing – we are a force, a growing force, and we are a force to be reckoned with," said Des Nobels, long-time North Coast fisherman, co-chair of the historic Salmon Nation Summit, and an elected municipal leader with the Skeena-Queen Charlotte Regional District. "If she thinks she can just come up here and destroy critical salmon habitat, to threaten the very basis of an economy that has shaped our culture and sustained our families for untold generations, well, of course we say 'no' to that."

Nobels was reacting to Clark's dismissal Monday of the widely supported Lelu Island Declaration, which called permanent protection of Lelu Island as well as and Flora and Agnew Banks near the mouth of the Skeena River.

"What we say 'yes' to is to wild salmon, to real respect for Aboriginal rights and title, and to a green economy in the north that will be a model for how British Columbia can lead a global transition to a fossil-fuel-free future," Nobels said. "Clark wants to blame us for trying to halt Petronas in its tracks. Actually, it is her utter lack of respect for us, for our Indigenous peoples, for our laws, and for wild salmon that has placed this project on death row – not us. And make no mistake, this project will not proceed," Nobels said.

Gerald Amos, Chairperson of Friends of Wild Salmon, and Aboriginal co – chair of the Summit added: "Christy Clark should read the declaration. What we are for is protecting one of the most unique and precious places on the BC coast for all Canadians. What we are for is respecting regional economies built on the health of Wild Salmon. What we are for is our children and grandchildren having the opportunity to enjoy the very thing that has sustained us as peoples for untold generations." Amos added "In 40 years of being a FN leader and conservation leader in the north this is one of the most paternalistic and ill formed comments I have heard. If she actually cared about our people, if she cared about our environment, and if she was serious about working to design an economy for all our futures, she would actually sign the declaration herself."

Chief Glen Williams, President of the Gitanyow Hereditary Chiefs Office confirmed Monday that the Gitanyow First Nation will be signing the Lelu Island Declaration. He said, "This project (Petronas) would have enormous impacts. Our scientists have confirmed this part of the Skeena Estuary is 25 times more important to our salmon as anywhere else on the Skeena estuary. This project was sited on Lelu Island absent of any consultations with us. Christy Clark should be aware that this is illegal in Canada, and the fact this project is collapsing before her eyes is a consequence of her government's broken promises and broken policies. We will protect our food."

Dr. Jonathan Moore, Chair of Coastal Science and Management at Simon Fraser University, and one of Canada's preeminent experts on salmon ecology, said in response to Christy Clarks views on science " Historic and recent scientific research has consistently found that the Flora Bank region is exceptionally important to young salmon from throughout the Skeena Watershed. Industrial development in this location, such as that proposed by PNW LNG, poses particularly high risks to salmon and the fisheries that they support." Dr. Moore has been working on Flora Bank with a team of scientists for three years, and his work on Flora Bank was peer reviewed and published in the Journal of Science, the world's preeminent journal of science.

For more information contact:
Jonathan Moore – 604-779-5523
Gerald Amos – 250-632-1521
Des Nobels – 250-627-1859
Glen Williams – 250-615-9597
First Nations, MLAs, and MP Sign Declaration for Permanent Protection of Lelu Island from Petronas
Friends of Wild Salmon, January 24, 2016
January 24, 2016
For Immediate Release
(Prince Rupert, BC) - Lelu Island and Flora Bank, critical habitat for wild salmon at the mouth of the Skeena River in northwestern B.C., have been declared permanently protected from industrial development by an unprecedented coalition of First Nations leaders, local residents and federal and provincial politicians.
The signing of The Lelu Island Declaration presents a major obstacle to plans by Malaysian-owned oil and gas giant, Petronas, to develop a liquefied natural gas (LNG) plant near Prince Rupert. The declaration also deals a huge blow to the provincial government's stated aim to get major LNG plants under construction before next year's provincial election.
"The Lelu Declaration sends a powerful message to Premier Clark and Prime Minister Trudeau," said Hereditary Chief Yahaan of the Gitwilgyoots Tribe of the Lax Kw'alaams. "The support to stop this LNG project is overwhelming. Nations are united from the headwaters of the Skeena River to the ocean. Together, we will fight this to the end."
The declaration was the culmination of a two-day Salmon Nation Summit, where more than 300 hereditary and elected First Nations leaders, scientists, politicians, commercial and sport fishermen, and other northern residents came together to defend wild salmon from the proposed Pacific NorthWest LNG project.
Signatories to the declaration included hereditary leaders from the Nine Allied Tribes of the Lax Kw'alaams First Nation, and hereditary leaders of the Gitxsan, Wet'suwet'en, Lake Babine, and Haisla First Nations. Grand Chief Stewart Phillip of the Union of B.C. Indian Chiefs also signed the declaration.
The Petronas project was also emphatically rejected by NDP MP Nathan Cullen (Bulkley Valley), and three northern NDP MLAs: Jennifer Rice (North Coast), Doug Donaldson (Stikine), and Robin Austin (Skeena). All four of the region's elected representatives signed the declaration. "This project isn't going to happen. This project can't happen," Cullen said. The three MLAs released a letter that said, in part, "the proposed PNW LNG facility poses an unacceptable risk to the Flora Bank habitat that is an irreplaceable link in the Skeena River salmon ecosystem."
Gerald Amos, Chair of Friends of Wild Salmon stated, "We honour the support of our elected representatives. Unlike the Clark government, they are prepared to stand up for an economy that recognizes our Aboriginal title, plays a part in the fight against climate change, and favours long-term prosperity for all the people of the Skeena, over short-term gain for foreign investors."
The Lelu Island Declaration states: "The undersigned First Nation leaders and citizens of the Nine Allied Tribes of Lax Kw'alaams hereby declare that Lelu Island, and Flora and Agnew Banks, are hereby protected for all time, as a refuge for wild salmon and marine resources, and are to be held in trust for all future generations."
The declaration extends an invitation to all First Nations, the governments of Canada and British Columbia, and all communities and citizens that depend on the health of Lelu Island, Flora and Agnew Banks and the Skeena River estuary, to join in defending this sacred and unique place and to protect it for all time.
Chief Na'MOKS of the Wet'suwet'en First Nation said, "Once again First Nations are being forced to take action because the government refuses to obey the laws of the land. We are salmon people and if we don't defend Flora Bank, there will be no protection for our salmon. The salmon is who we are, and without them we lose our identity and our future."
Grand Chief Stewart Phillip said, "Contrary to the false assertions of the B.C. Liberal government and Petronas' public relations machine, there is formidable opposition to the LNG project proposed for Lelu Island. What binds people together throughout northwest B.C. is the undeniable fact that wild salmon are at the centre of our livelihoods and existence. It is essential that the Trudeau government immediately intervene in the fundamentally flawed Canadian Environmental Assessment process to ensure that the Indigenous rights of the nations of the Skeena watershed are upheld."

Media contacts:
Hereditary Chief Yahaan (Donnie Wesley), Tsimshian Nation: (250) 615 7787
Chief Na'MOKS (John Risdale), Wet'suwet'en Nation: 250-643-0771
Grand Chief Stewart Phillip, President, Union of BC Indian Chiefs (250) 490 5314
Gerald Amos, Chair of Friends of Wild Salmon: (250) 632 1521

To read the Lelu Island Declaration, click here.
To read the statement release by the MLAs, click here.

For video contact 250-634-1021
For photos contact 250-847-9693
Ruling could affect more than Northern Gateway
By Brian Morton, Vancouver Sun, January 14, 2016
A B.C. Supreme Court ruling Wednesday that brought a halt to Enbridge's $7.9-billion Northern Gateway project could have wider environmental implications for the province.
Justice Marvyn Koenigsberg found the B.C. government abdicated its statutory duties and breached its duty to consult First Nations when it signed and failed to terminate an equivalency agreement that handed the federal National Energy Board sole jurisdiction over the environmental assessment decision-making on the project.
Justice Koenigsberg said the province can't rely on the NEB for environmental approval.
Lawyer Joseph Arvay, lead counsel for petitioners the Great Bear Initiative Society and Gitga'at First Nation (collectively the Coastal First Nations), said Wednesday the ruling "makes it clear that the province has jurisdiction over this pipeline so long as the conditions reflect its competence over the environment."
He said the province breached its duty to consult and accommodate First Nations on the project, calling it a "very significant" decision that goes beyond Northern Gateway.
"The court said that the province abdicated, gave away, its powers to the federal government over the Northern Gateway project when it entered into this so-called equivalency agreement with the NEB. But it entered into exactly the same equivalency agreement with the NEB on the Kinder Morgan project."

Avery added: "The province should be delighted, even though it was perhaps shown to have failed in its statutory constitutional duties, because we demonstrated that it had more power than it did. So the court essentially gave it the legal backbone that up to this point it failed to use. I hope the province will accept it."
First Nations hailed the ruling as a major setback for the controversial pipeline plan.
"We're running out of coffin nails now," said Gitga'at spokesman and member Art Sterritt. "The reality is if Northern Gateway wants to try to go ahead after all of this, you're looking at a whole new process whereby British Columbia is going to have hearings and sit down with First Nations up and down the routes wherever there's any effects, and then decide whether or not Northern Gateway meets the conditions that they put in place."
"This is a huge victory that affirms the provincial government's duty to consult with and accommodate First Nations and to exercise its decision-making power on major pipeline projects," said Arnold Clifton, chief councillor of the Gitga'at First Nation.
The ruling means the province must now make its own environmental assessment decision regarding the Northern Gateway pipeline, and that it must consult with and accommodate First Nations along the pipeline route about potential impacts to their aboriginal rights and title.
Koenigsberg ruled that the province breached "the honour of the Crown" by failing to consult with the CFN, and the Gitga'at specifically.
"The province is required to consult with the Gitga'at about the potential impacts of the project on areas of provincial jurisdiction and about how those impacts may affect the Gitga'at's aboriginal rights, and how those impacts are to be addressed in a manner consistent with the honour of the Crown and reconciliation," Koenigsberg said in his decision.
The ruling means that until the province makes a decision on the pipeline and issues an Environmental Assessment Certificate, none of the approximately 60 permits, licenses and authorizations necessary for the project to proceed can be issued.
It is the latest setback for the project, which aims to ship 525,000 barrels of oilsands crude a day to Kitimat for export to Asia. The federal Liberal government has said it wants to formalize a tanker ban on B.C.'s north coast, a move many say would essentially kill the project.
Northern Gateway communications manager Ivan Giesbrecht said in a statement Wednesday that Enbridge still plans to proceed with the project.
"Approval of the project falls within federal jurisdiction, and this decision from the British Columbia Supreme Court does not change that approval or the project's environmental assessment," he said.
Asked if Enbridge would appeal the court decision Giesbrecht said: "This comes down to a jurisdictional matter between the federal and provincial governments. We support and welcome the court's direction for more consultation with First Nation and Métis peoples."
B.C. Justice Minister Suzanne Anton said the province is reviewing the Supreme Court decision, but the interpretation so far is that the province won't have to duplicate the entire review process.
"Our reading of it is not that the judge is requiring us to do everything all over again. But what we do have to do is assess our B.C. requirement as per our B.C. statute and make sure that we're complying with those requirements," added Anton, noting that she doesn't yet know whether the province will appeal the ruling.
Tara O'Donovan, a spokeswoman for the National Energy Board, declined to comment on what the ruling would mean for other projects under review.
Earlier this month, Enbridge said it has a plan to meet regulatory deadlines on the pipeline despite the looming expiry of NEB approval this year.
Among deadlines in the 209 conditions the project must meet NEB approval expires if construction has not started before the end of 2016.
And the Calgary-based company must have signed commitments from oil producers to ship crude on the pipeline, making up at least 60 per cent of line capacity, six months before construction starts.
http://www.vancouversun.com/business/resources/ruling+could+affect+more+than+northern+gateway/11649767/story.html">Download related file in PDF format
Province of B.C. formally opposes Kinder Morgan expansion
By Rob Shaw, Vancouver Sun, January 11, 2016
The B.C. government will formally oppose the Trans Mountain oil pipeline expansion in a written submission to the National Energy Board on Monday.
Environment Minister Mary Polak told The Vancouver Sun that the government believes that pipeline proponent Kinder Morgan has failed to provide the NEB with an adequate plan to prevent or respond to an oil spill.
"We are asking them not to recommend approval," Polak said.
The B.C. government laid out in five conditions in 2012 that it said all oil pipeline projects would have to meet before they would be allowed in the province.
The second and third conditions require "world-leading" prevention and response plans if a pipeline fails on land or if oil is spilled into any rivers, lakes or the ocean.
"As far as we're concerned, we have not seen the evidence in the hearings to support a conclusion that they've met our conditions on two and three," said Polak. "So we won't be supporting their approval at this time."
The $6.8 billion Trans Mountain project would involve Kinder Morgan twinning its existing 1,150-kilometre pipeline from the Alberta oilsands to its terminal in Burnaby.
It would increase pipeline capacity between Edmonton and Burnaby from 300,000 barrels a day to 890,000 barrels, and lead to as much as a seven-fold increase in tanker traffic.
Kinder Morgan has said it will mitigate increased risks of oil spills by increasing tug escorts in inland ocean waters and beefing up spill-response capacity. The company has also noted some First Nations support the project.
B.C.'s submission to the NEB mainly deals with spill response, said Polak.
"The evidence submitted to the NEB on Kinder Morgan's specific expansion of their pipeline … they did not submit evidence of their ability to respond in a world leading way on the land," she said.
B.C. is making progress on developing a system for oil spill response on land, said Polak.
But much of the responsibility for a marine spill falls on the federal government.
"While there is primarily federal responsibility, that doesn't mean that a company couldn't provide the resources themselves to respond adequately to a spill," said Polak, adding Kinder Morgan has failed to "step up" to that job.
"If you look at what's lacking generally on our coast, especially the capacity for tug response … we still have significant concerns. We've had attention from the federal government, that's evidenced in the (re-opening) announcement on the Kitsilano Coast Guard base and I know there's ongoing discussions with them. I know they want to see improved spill capacity on the coast. But we haven't seen that yet."
Outside of the NEB process on oil spills, the project has failed to meet any of the province's five conditions, such as obtaining First Nations support and providing the province a fair share of economic benefits, said Polak.
"At this stage, no they have not met any of our five conditions," she said.
Environmental groups, First Nations and Metro-area municipalities have objected to the project, arguing that a leak from a pipeline or oil tanker would be catastrophic for the environment and the region's economy. Several studies have predicted an oil spill would cost the region billions, pollute the water, devastate marine life and devalue property prices.
The city of Burnaby and First Nations have tried to block the project in court, and more than 100 protesters were arrested last year after they clashed with Kinder Morgan survey workers on Burnaby Mountain.
The NEB must make recommendations to the federal cabinet on the Trans Mountain project by May 20. The final decision will be made by Prime Minister Justin Trudeau's government.
Trudeau has promised to overhaul the federal environment assessment process for projects, as well as include more emphasis on First Nation rights. His government has said projects already in the review process won't have to start the process over, but there will be a transition period to allow for future changes to the federal regime.
http://www.vancouversun.com/technology/province+formally+opposes+kinder+morgan+expansion/11642943/story.html?__lsa=d41e-6cbd">Download related file in PDF format
Enbridge says it will meet regulatory deadlines for Northern Gateway
By Gordon Hoekstra, Vancouver Sun, January 11, 2016
Enbridge says it has a plan to meet regulatory deadlines on its $7.9-billion Northern Gateway pipeline despite the looming expiry of National Energy Board approval this year.
Among deadlines in the 209 conditions the project must meet, NEB approval expires if construction has not started before the end of 2016.
And the Calgary-based company must have signed commitments from oil producers to ship crude on the pipeline, making up at least 60 per cent of line capacity, six months before construction starts.
In a Dec. 21 filing to the NEB, Calgary-based Enbridge said it had signed no firm commitments from Alberta oilsands producers for the project meant to open up new markets in Asia.
Enbridge spokesman Ivan Giesbrecht said the company, its commercial funding partners and aboriginal equity partners remain committed to the project.
"We have a plan in place to meet our National Energy Board commitments and timetables and are satisfied with the progress we are making," Giesbrecht said in an email. "Part of that plan includes establishing respectful dialogue and achieving improved relationships with First Nations and Métis communities. Our support within these communities continues to grow."
Giesbrecht said the company would have more to report in the next several weeks on its NEB commitments and filing schedule.
The Northern Gateway project has met stiff resistance from coastal and north-central B.C. First Nations, although the company says it has support from First Nations in B.C. and Alberta.
The environmental group Dogwood Initiative said the project's demise is in sight, in particular because the company has failed to sign shipment agreements with oil producers.
"Northern Gateway is circling the drain," said Dogwood spokesman Kai Nagata. "There are 19 lawsuits against the project and the new federal government is drawing up legislation to ban oil tankers on the North Coast. No oil producer is going to stick its neck out and pay for shipping capacity on a pipeline that will never be built."
Enbridge has also continued to say its project remains viable despite a pledge by Justin Trudeau's federal Liberal government to enact a moratorium on oil tanker traffic in northwest B.C., which encompasses the project's terminus at Kitimat on Douglas Channel and the tanker route.
In its Dec. 21 filing to the NEB, Enbridge said it continues to have support of its funding participants — which include Cenovus, MEG Energy, Nexen, Suncor, Total E & P Canada — through support agreements.
Enbridge noted the shippers have said they won't have signed agreements until all legal challenges of the project have been exhausted.
NEB spokeswoman Tara O'Donovan said the regulatory agency does grant extensions from time to time, provided the applicant has "sufficiently justified the need for an extension."
For example, the NEB is considering a request of Imperial Oil to extend by seven years the construction start to year-end 2022 for the $20-billion Mackenzie gas pipeline project.
http://www.vancouversun.com/technology/enbridge+says+will+meet+regulatory+deadlines+northern+gateway/11642799/story.html?__lsa=3889-f858">Download related file in PDF format
In B.C., politicians ignore environment at their peril
By Mario Canseco, Special to the Sun, Vancouver Sun, January 04, 2016
For many Canadians, 2015 will be remembered as a banner year for the environmental movement.
In the past three months, there was a new global agreement on greenhouse gas emissions and a new government in Ottawa that ordered a ministry revamp — it is now called Department of the Environment and Climate Change — to hammer home the point that Canada is serious about the challenges ahead.
The shift toward new environmental policies was evident in the 2015 federal election. In British Columbia, the share of the vote for the Conservative party fell drastically, from 45.5 per cent in 2011 to 30 per cent in 2015. A third of voters abandoned the former ruling party, four years after its majority mandate.
The analysis points to severe problems for the Tories in the two components of British Columbia where people tend to be more environmentally friendly. In Vancouver Island, they failed to win a single seat, even with former cabinet member John Duncan contesting in a newly drawn constituency. In Metro Vancouver, the Conservatives lost seven ridings they held (or would have, under the new boundaries) and now have just three seats: South Surrey-White Rock, Richmond Centre and Langley-Aldergrove.
It would not be fair to say that the environment was the reason for the defeat of Tory candidates in 2015. Other issues, including Bill C-51, the Senate scandal and a lacklustre campaign, are also to blame for the power shift in Ottawa. Still, B.C. is a province that, along with Quebec, understood the ramifications of climate change more quickly than Ontario, the Maritimes or the Prairies. In B.C., the environment is still a decisive factor in selecting candidates and platforms.
With this backdrop, 2016 is shaping up to be a year in which the intersection of the economy and the environment will have an enormous effect on policies. Two oil pipeline projects, the Enbridge Northern Gateway and the expansion of the Kinder Morgan Trans Mountain line, were regarded as extraordinarily important just three years ago. Now, they are no longer "top of mind," as the provincial government has focused most of its efforts toward liquefied natural gas.
In July, Insights West found that most British Columbians (52 per cent) are opposed to the Northern Gateway, and a slightly smaller proportion (46 per cent) were against the expansion of the Trans Mountain line. Opposition to both projects reached 53 per cent mark in Metro Vancouver. With numbers like these, it makes perfect sense for Victoria to focus on LNG.
Still, the LNG file has been one of shifting promises, and the public has not forgotten government stating that "billions of dollars in new revenue will be dedicated to the B.C. Prosperity Fund."
In December 2013, just six months after an electoral victory that many saw as an endorsement of a "can do" premier that was going to create jobs, only 35 per cent of British Columbians said the provincial government was doing a "bad job" in handling LNG. Two years later, after delays and a drop in international prices, the proportion has jumped to 47 per cent.
The public's relationship with LNG has been tenuous at best. While half of British Columbians (50 per cent) support the government's push for the development of LNG, only 26 per cent approve of hydraulic fracturing or fracking — the process through which much of the LNG is extracted — and an even smaller proportion (22 per cent) believe the industry will bring benefits to all B.C. residents.
In October, the perception of a federal government that was not being environmentally friendly became one reason for voters in our province to take a second look at other alternatives. The federal Liberals were the beneficiaries, taking their share of the vote from 13 per cent in 2011 to 35 per cent in 2015. This makes it even more important for Victoria to deliver results and discuss all aspects of LNG (including fracking) openly and honestly. Mixed messages, as the Conservatives found out, will not sway a public that is already skeptical.
Mario Canseco is vice-president of Insights West's public affairs division.
http://www.vancouversun.com/business/mario+canseco+politicians+ignore+environment+their+peril/11630103/story.html?__lsa=e459-99d7">Download related file in PDF format
Opinion: Tanker ban is best way to protect North Pacific
By Linda Nowlan, Vancouver Sun, December 21, 2015
Legislating an oil tanker ban in the North Pacific is a decisive step to build the future British Columbians want. While there are other ways to stop Enbridge's Northern Gateway project, a law prohibiting oil tanker traffic will address all oil tankers in the region, not just this one project, and remove all doubt about the federal moratorium, in place since 1972. Passing such a law will uphold Canada's tradition of acting to protect its ocean interests while working with other states to develop international law. It is also a critical step for a sustainable future for the region.
The five private member bills introduced by MPs Joyce Murray and Nathan Cullen are a blueprint for action, and can be tailored to address past critiques, such as by exempting existing shipments of fuel to coastal communities in both B.C. and Alaska.
Concerns about how our neighbours to the south may react should not be overblown. Like all coastal nations, the U.S. juggles marine environmental protection and shipping rules such as innocent passage, and acts when necessary, as Canada should in this case. The U.S. restricts shipping through domestic law in environmentally sensitive areas such as Puget Sound, and through numerous internationally sanctioned limits. Just this past July, the International Maritime Organization approved a U.S. proposal to limit shipping close to the Alaskan Aleutian Islands due to concerns about potential damage to local communities reliant on fisheries.
It is similarly in Canada's interests to eliminate the risk of catastrophic spills and other harmful impacts from oil tankers by prohibiting their passage in B.C.'s north coast, almost half of which is classified as "Ecologically or Biologically Significant Areas", according to criteria adopted by the Convention on Biological Diversity. The proposed tanker routes pass by critical habitat for fish, shellfish, endangered whales, and protected areas like Gwaii Hanaas National Marine Conservation Area Reserve and Haida Heritage Site, and Sgaan Kinghlas/Bowie Seamount, an underwater volcano protected under Canada's Oceans Act.
Canada's interests in legislating a north coast oil tanker ban are also economic — industries such as fishing, aquaculture and tourism depend on a healthy ocean. A study from UBC's Fisheries Centre found that the costs of a major oil spill would outweigh the benefits that Enbridge itself calculated would flow from the Northern Gateway project. The researchers conservatively estimated that a large-scale spill could cost local fishermen, the Port of Prince Rupert, BC Ferries and marine tourism operators roughly $300 million, 4,000 full-time jobs, and $200 million in contribution to GDP over 50 years, not including damage to social, cultural and ecological values. Each year, ocean-based industries on the north coast of B.C. generate about $1.2 billion, provide employment for more than 9,000 people, and contribute approximately $700 million to GDP.
A legislated oil tanker ban would further protect Canada's interests by according with the declarations of First Nations that have banned oil tanker traffic from the waters in their territories as a matter of their own laws. Eight First Nations are among the litigants now awaiting a ruling from the Federal Court of Appeal on the legality of the government's Northern Gateway approval. Earlier this fall, the courtroom for the hearings was packed with community members and elders in regalia who were among those who had travelled from distant communities to show the depth of their opposition to this project.
A tanker ban is consistent with the "constitution for the oceans", the UN Convention of the Law of the Sea (UNCLOS), which confirms Canada's full sovereignty over its internal waters, and its right to make laws for environmental protection in its territorial seas. The tanker ban law can be crafted to align with Canada's support for freedom of navigation, consistent with environmental protection and coastal state security, building on our long-standing leadership in developing the law of the sea.
This would not be the first time Canada has acted to protect its waters from oil tankers. In the 1980s, Canada passed regulations limiting oil tankers in the waters within Head Harbour Passage, New Brunswick due to navigational risks and the value of fisheries and aquatic bird resources. (The regulations were later rescinded when the U.S. withdrew a proposal for an oil refinery in the area.) Canada also negotiated the "Arctic exception" clause in UNCLOS, giving international legal recognition to Canada's unilateral action in passing the Arctic Waters Pollution Prevention Act in 1972.
Finally, a tanker ban law can open up much-needed political space for a dialogue with the federal government about future directions for B.C.'s north coast that can build on marine spatial plans recently signed by the government of B.C. and 18 First Nations which establish marine zones and set directions for sustainable economic development. The need for a holistic approach to development that accounts for cumulative impacts has never been higher, as overall ocean health deteriorates, large fish dwindle, acidification weakens shellfish, and warming seas and rising sea levels portend damaging ecological consequences. But there is little hope for this to occur while relations between key actors remain soured as a result of prolonged controversy surrounding the potential introduction of oil tankers.
Formalizing the moratorium is rightly considered a top priority by a federal government committed to development that meets the needs of today and those of our grandchildren.
Linda Nowlan is staff counsel with West Coast Environmental Law in Vancouver.
http://www.vancouversun.com/opinion/op-ed/opinion+tanker+best+protect+north+pacific/11605542/story.html">Download related file in PDF format
Canoe for Justin Trudeau symbolic at several levels
By Jeff Lee, Vancouver Sun, December 18, 2015
A small, finely crafted model of a West Coast cedar war canoe, complete with paddles, has become a symbol of the renewed relationship that First Nations hope is growing between them and the federal government.
In his visit to Vancouver City Hall Thursday, Prime Minister Justin Trudeau was presented with the model by the chiefs of the three First Nations that cover much of Metro Vancouver.
For First Nations, the canoe is a powerful symbol signifying people pulling together in a shared journey. But the model presented to Trudeau by chiefs Ian Campbell, Maureen Thomas and Wayne Sparrow of the Squamish, Tsleil-Waututh and Musqueam, carried much more promise because of remarks the new aboriginal affairs minister, Carolyn Bennett, made last week at the Assembly of First Nations in Gatineau.
In her closing remarks, Bennett used the analogy of the relationship between First Nations and the previous federal government as a canoe that had capsized.
"Some of the chiefs in the delegation had said the canoe had actually sunk," Campbell said Friday. "Bennett said it is time to right the canoe and point it in the right direction; it was a turning of the tide and there is room in the canoe for all of us to reset that relationship."
So when Campbell, Thomas and Sparrow were invited to be at the head the receiving line at city hall, they thought there was no better gift for the prime minister than a new canoe, even though it is tiny compared to the leviathans their people had paddled in the past.
Campbell said he told Trudeau the context of Campbell's comments and thanked him for his words about needing to change how Canada deals with First Nations. He said Trudeau said it was the right thing to do and that he was pleased to be welcomed by them.
"I said, well, welcome home, this is your home too," Campbell said. "The spirit is strong here. There is a sense of hope of a new relationship and that the narrative is changing."
Despite that optimistic new beginning, Campbell said he's disappointed Trudeau didn't take a stand on Kinder Morgan's plan to twin its Trans Mountain pipeline and expand oil tanker use on the West Coast.
Trudeau had told reporters at City Hall that he objects to Northern Gateway's proposed pipeline and that he doesn't believe there should be any oil transport through the Great Bear Rainforest. But he also said Northern Gateway had the right to go through the process of application, as slim as their chances might be.
Trudeau didn't comment on Kinder Morgan's southern route through Vancouver's harbour and Squamish, Musqueam and Tsleil-Waututh territory, which left Campbell unhappy. He said the First Nations are deeply concerned about the National Energy Board's view that it doesn't have to hear their concerns about the effect the project would have on their territories.
"That is where it raised some of the anxiety for me that he didn't stretch it far enough to talk about revamping government-to-government relations in decision making around the NEB," Campbell said.
"I think that agenda is something we're going to be pushing in the new year. We are still wholly unsatisfied with the National Energy Board process, the procedural unfairness that doesn't allow us the opportunity for dialogue and full recognition of rights and title and analysis of the risks associated with Kinder Morgan and other projects."
http://www.vancouversun.com/canoe+justin+trudeau+symbolic+several+levels/11600301/story.html?__lsa=e459-99d7">Download related file in PDF format
B.C. First Nations laud Trudeau's tanker moratorium
By Fram Dinshaw, Vancouver Observer, December 17, 2015
First Nations representatives from northern British Columbia gave a warm welcome to Prime Minister Justin Trudeau's moratorium on oil tanker traffic in their traditional territories.
The federal government's tanker moratorium will keep ships out of northern B.C.'s Pacific coast and is seen by some observers as a roundabout way of stopping Enbridge's proposed Northern Gateway oil pipeline. If built as planned, the pipeline would pump oil sands crude from Alberta to a tanker port in Kitimat on the Pacific coast, from where it would be exported abroad. Oil tankers would traverse waters around the Great Bear Rainforest and other areas of pristine wilderness.
"Now the federal government has created an opportunity to demonstrate that it is listening to First Nations by ensuring these types of projects no longer threaten the environment in the region. I encourage the federal government to seize that opportunity by enacting a strong and comprehensive oil tanker moratorium for the Pacific north coast. We only have one Earth to take care of," said Grand Chief Stewart Phillip, President of the Union of B.C. Indian Chiefs.
Ottawa's tanker ban comes five years after more than 100 First Nations communities signed the Save the Fraser Declaration, an accord prohibiting oil megaprojects in signatories' territories.
The Yinka Dene Alliance, which took the former Conservative government to court after it conditionally approved the Northern Gateway project earlier this year, also welcomed PM Trudeau's tanker ban.
Saik'uz First Nation chief Stanley Thomas, who is also an alliance member, said that the federal moratorium would protect not only the ocean, but also their lands, freshwater supplies, plants, animals, and the communities that depend on them.
"We support the federal government on this. I think our boats are finally pointed in the right direction," said Thomas.
The former Conservative government conditionally approved Northern Gateway in June 2014 despite widespread popular opposition from British Columbians. Opponents of the pipeline condemned the National Energy Board's review process for Northern Gateway as flawed, as it did not examine the long term impacts of pipeline construction, tanker traffic, spills, or oil sands expansion on climate change.
"An oil spill would devastate fishing, tourism, and traditional subsistence harvesting, which are the backbones of the economy in the North and Central Coast and Haida Gwaii," said Marilyn Slett, chief of the Heiltsuk Nation and president of the Coastal First Nations.
Promises to keep
Just days after his government was sworn in last month, PM Trudeau issued a mandate letter to Transport Minister Marc Garneau, directing him to implement the tanker moratorium together with the ministries of natural resources, fisheries, and the environment.
"The dispute between First Nations and the federal government over Northern Gateway has been prolonged and highly-charged, diverting resources away from the many other important issues in the region that require constructive, forward-looking dialogue," said Chief Fred Sam of the Nak'azdli Nation, which is also a member of the Yinka Dene Alliance.
However, halting tanker traffic on the Pacific coast could cause a legal headache for PM Trudeau, as any measures that disrupt shipping in this area may be contested by the United States. The Americans maintain that their ships have freedom of navigation along this stretch of coast, which is a sea corridor to communities across the Alaska Panhandle.
What's more, Enbridge has also managed to win support from 28 of the 40-plus Indigenous bands living along Northern Gateway's proposed route, according to the Globe and Mail. This could mean that First Nations communities once opposed to the pipeline may yet support it, possibly breathing new life into the energy giant's plans to pipe oil to tankers on the Pacific coast.
http://www.vancouverobserver.com/news/bc-first-nations-laud-trudeau-s-tanker-moratorium">Download related file in PDF format