McAllister/Nikiforuk event: A Story With Two Ends
Friends of Wild Salmon and ForestEthics are proud to present this series of events, which showcase two well-known Canadian authors.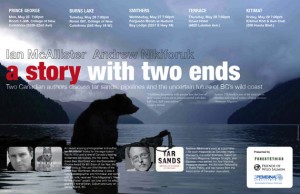 An award winning photographer and author, Ian McAllister works for the organization Pacific Wild and is one of Canada's leading wilderness advocates. His first book, The Great Bear Rainforest won the Booksellers' Choice Award for BC Book of the Year. His latest book is The Last Wild Wolves of the Great Bear Rainforest. McAllister is also a nature photographer and filmmaker and along with his wife, received Time Magazine's "Hero for the Planet" award. Ian lives with his wife and their two children, Callum and Lucy on Denny Island, BC.
Andrew Nikiforuk's work as a journalist – for such magazines as Saturday Night, Maclean's, Canadian Business, Report on Business Magazine, Georgia Straight, and Equinox – has earned him four National Magazine Awards, the Atkinson Fellowship in Public Policy, and top honors from the Association of Canadian Journalists. His latest book, Tar Sands: Dirty Oil and the Future of a Continent reveals the true costs of America's oil addiction.
Event dates, times and venues:
Mon, May 25th – Prince George, Room 1-306 at College of New Caledonia (3330-22nd Ave)
Tues, May 26th – Burns Lake, Room 007 at College of New Caledonia (545 Hwy 16 W.)
Weds, May 27th – Smithers, Ferguson Room at Hudson Bay Lodge (3251 E Hwy 16)
Thurs, May 28th – Terrace, The Coast Hotel (4620 Lakelse Ave)
Friday, May 29th - Kitimat, Rod and Gun Club (386 Haisla Blvd)