Liquefied Natural Gas (LNG) development
Lelu Island and Petronas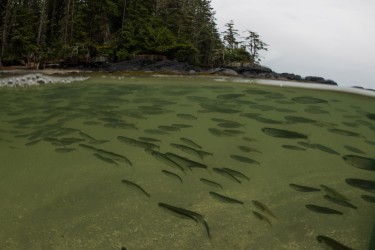 Skeena River salmon all depend on healthy ecosystems, and Flora Bank in the Skeena estuary provides some of the most critical habitat for juvenile salmon. Petronas, a Malysian-owned corporation, is proposing to build a massive LNG transport facility with infrastructure spanning onto Flora Bank. According to world leading scientists the construction and operation of this facility could destabilize Flora Bank and degrade salmon habitat.
The Tsimpsean people have occupied Lelu Island on B.C.'s North Coast in order to protect it from the massive Pacific Northwest LNG proposal that threatens the salmon habitat that is the lifeblood of the Skeena River. They have occupied their traditional territory and are living on the land, witnessing the attempts by Petronas and their contractors to test drill and survey this sensitive salmon-spawning estuary at the mouth of the Skeena. On average between 3 million and 10 million adult salmon return to the Skeena River each year. Based on a 1% survival rate (which is common), this means that between 300 million and 1 billion juvenile salmon attempt to leave the Skeena River each year, most of which will eventually reach Flora Bank.
Watch this video by SkeenaWild to learn more about the First Nations that are occupying Lelu Island, and this video about Skeena River Salmon.
Can you help Lelu Island with a donation, however much you can afford at this time? Friends of Wild Salmon has a secure donations page that you can use to make a credit card donation. The money will be critical to ensure that the brave people on the island do not have to worry about food and shelter for the duration of the occupation.
You can visit the website at Lelu Declaration and add your name to the growing list of people that want to see this critical salmon habitat protected, not destroyed.