Liquefied Natural Gas (LNG) development
The Lelu Island Declaration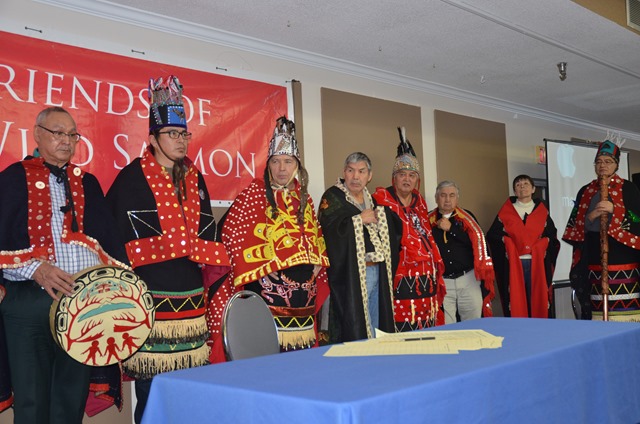 At the Salmon Nation Summit in Prince Rupert, B.C., on January 23, 2016, Hereditary Chiefs from all across the Skeena watershed signed the Lelu Island Declaration in an historic ceremony.
Add your name to the Lelu Island Declaration.
Watch the video of the Salmon Nation Summit.
The Declaration reads as follows:
The undersigned First Nation leaders and citizens of the Nine Allied Tribes of Lax Kw'alaams hereby declare that Lelu Island, and Flora and Agnew Banks are hereby protected for all time, as a refuge for wild salmon and marine resources, and are to be held in trust for all future generations.
Our ancestral knowledge, supported by modern science, confirms this area is critical to the future abundance of the wild salmon our communities rely on. It is our right and our responsibility as First Nations to protect and defend this place. It is our right to use this area without interference to harvest salmon and marine resources for our sustenance, and commercially in support of our livelihoods.
We hereby extend an invitation to all First Nations, the governments of Canada and British Columbia, and all communities that depend on the health of Lelu Island, Flora and Agnew Banks and the Skeena River estuary, to join us in defending this unique and precious place, and to protect it for all time.
Signed, on this day January 23, 2016, in Prince Rupert, British Columbia, Canada.